Website Visitor Identification — a Low-Cost but Powerful Lead Machine! The Ultimate Guide
Website Visitor Identification — Introduction
Website visitor identification is a lead generation process that allows B2B companies to identify anonymous website visitors based on IP addresses or other tracking methods.
This technology has long been a neglected marketing opportunity that few people knew about. In the past, Google Analytics contained a report showing which Internet networks the website visits originated from, but it attracted only a few marketers' attention since the data was very rough and unreliable. Meanwhile, various software tools have emerged that adopted and professionalized website visitor recognition. One such tool is LeadRebel.
The Google discontinued respective in late 2019, which spurred the growth of our industry even further. Nowadays, website visitor recognition enjoys high popularity as a marketing method. In the wake of increasingly strict cookie tracking requirements, it is being embraced as an alternative to visitor tracking and retargeting.
Many marketers ask themselves the same question over and over again: Who visits my website? Quite surprisingly, though, many are unaware that a direct answer to this question even exists. Rather than trying to accomplish this by using indirect methods like audience analysis and segmentation, LeadRebel lets you see which employees from which companies came to your website.
This guide tries to answer the most frequent questions about technology, the industry, and LeadRebel.
Overview
Website Visitor Detection: FAQ
What is website visitor identification?
Website visitor recognition refers to the technology that allows you to identify visitors to your website by collecting and analyzing their IP address, cookies or other identifiers.
What data can be collected through website visitor identification?
By using website visitor recognition, you can collect information about your visitors, such as their geographic location, the companies they work for, how often they visit your website, and the pages they visit. This information can be used to improve your marketing strategy by creating personalized messages, customizing your website content and improving your audience analysis.
Is Website Visitor Identification GDPR Compliant?
Website visitor identification is GDPR compliant when done in accordance with data protection regulations. The General Data Protection Regulation (GDPR) contains strict rules to protect the personal data of EU citizens. If you collect personal information from visitors to your website, you must ensure that you do so in a transparent, legitimate and lawful manner. You must inform your website visitors about the collection of personal data and ensure that you have obtained their consent to do so.
Top 3 Benefits of Website Visitor Recognition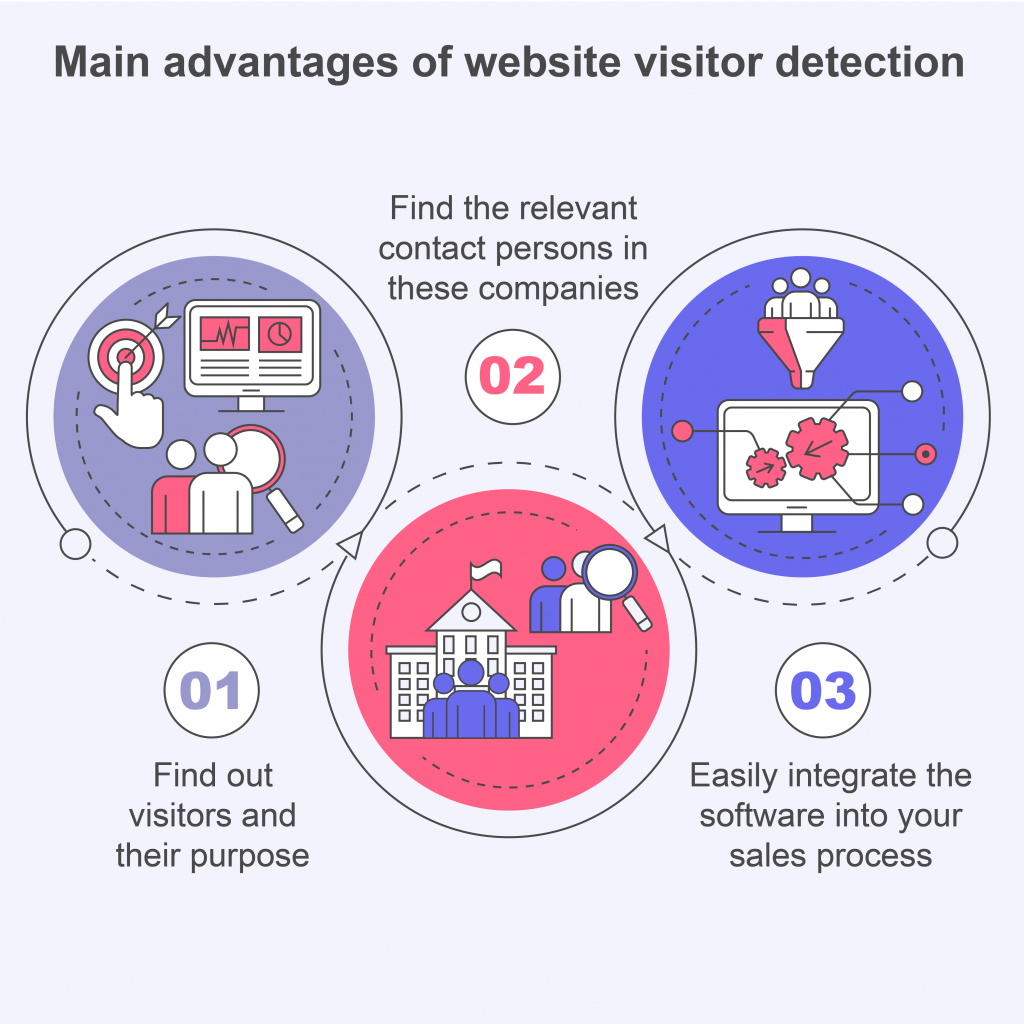 Before we dive in, here are three key benefits of website visitor identification for you to better grasp what this marketing and sales method has to offer:
You know which companies have visited your website and their intentions
Are aware of the relevant people to talk to at these companies
You can integrate the software seamlessly into your sales process due to its outstanding flexibility and powerful export functions
It sounds like a lead machine, and it is! Read on to learn whether website visitor recognition is a suitable solution for you.
For Whom Does Website Visitor Recognition Make Sense?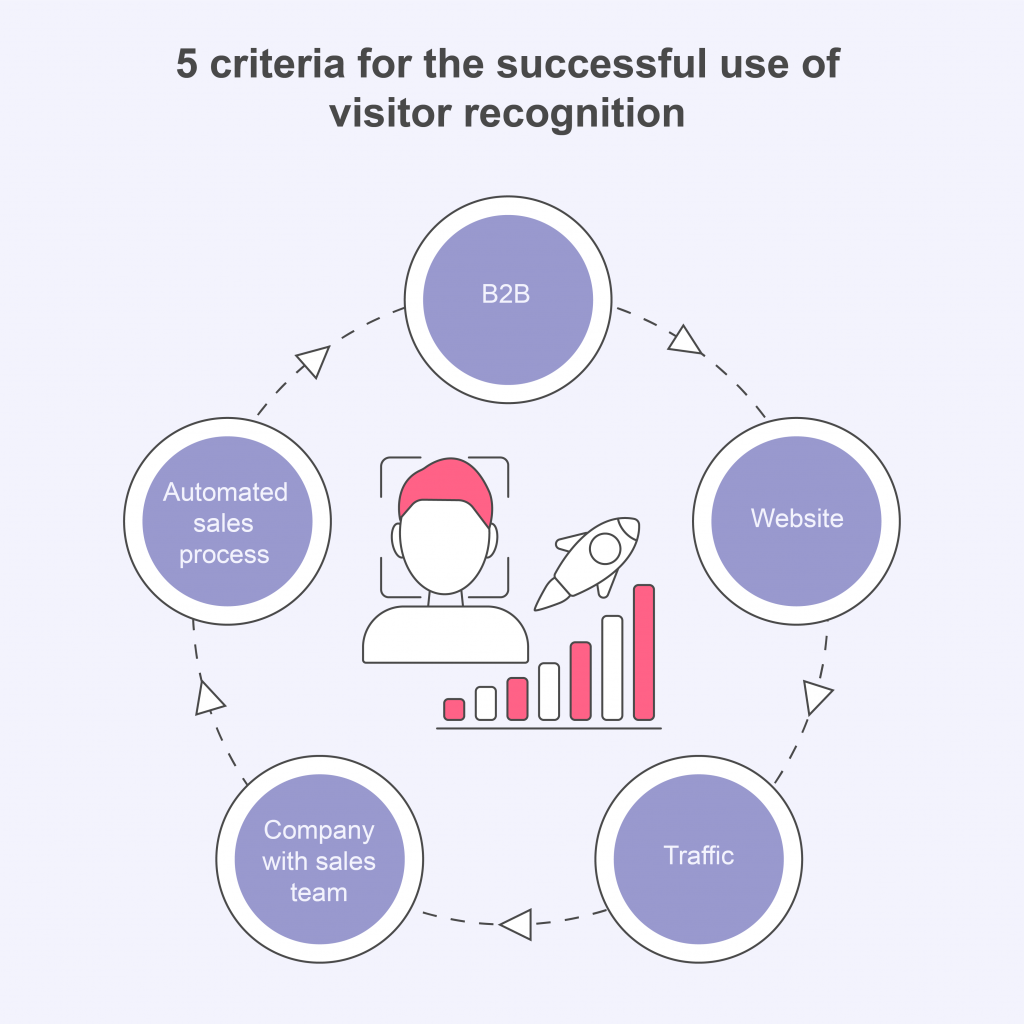 Software that identifies website visitors doesn't add up for every business. Based on our experience, such a software tool is a game-changer for the following organizations:
Industry: B2B. Why? Because website visitor tracking only works at the business level. You can't and may not apply this technology for recognizing individual users. As such, there are hardly any advantages this method can offer to B2C companies.
A reasonably functioning website is essential.
Traffic: at least 50 website visitors per day, better more.
The company should have a sales team. Ideally, one person is in charge of going through all the leads at least once a day and distributing them to the sales team that takes care of them.
This distribution process must be automated for recognition software to become an integral part of this automated process.
These are just five factors we believe are critical to the successful deployment of website visitor tracking.
How Do You Know Which Person Visited My Website?
Well, the good news is, you do not need to know which member of company XY visited your company's website. LeadRebel, like similar software solutions, is not permitted to tell you who precisely the individual was that browsed your pages. This would be untenable in terms of data privacy as well as from an ethical standpoint.
The good news is: You do not need this information at all. Why? Simply by using visitor recognition software, you learn that company XY has an intention to buy.
You also already know which department is responsible for purchasing your products or services. Using LeadRebel's "Search for employees" function, you can find out who works for company XY.
In other words: You know which company is interested in which product, which department is responsible for ordering your products or services, and— thanks to LeadRebel—who works in this department along with their contact details.
That is why it does not matter which particular person visited your website but taking the above factors into account is sufficient.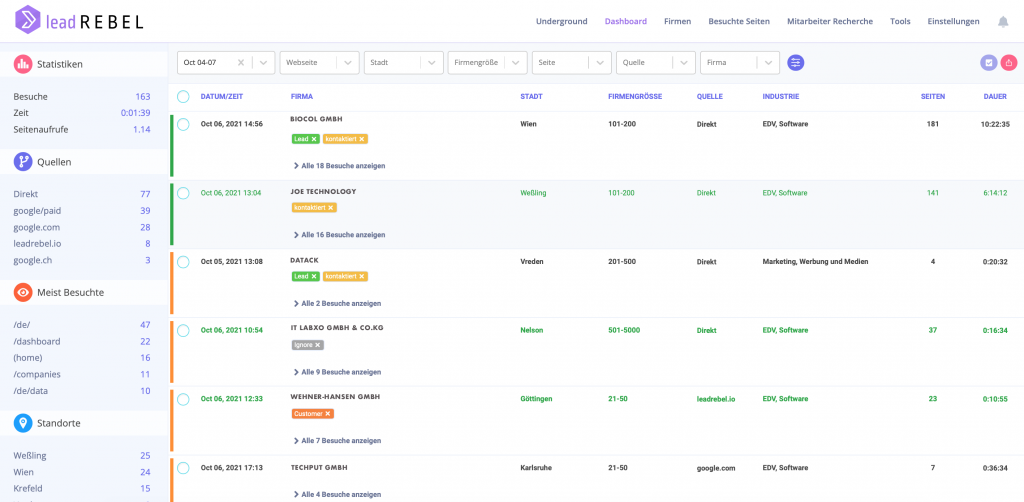 How Does Website Visitor Tracking Work?
You need to embed the tracking code on the website provided to you right after registering to use our software. Once the code is included, we will receive traffic information from your website for analysis.
Website visitor tracking is mainly based on the visitors' IP addresses. The tracker captures IP addresses and matches them using internal and external databases to identify which network the visitor came from. The next step is to look up the network name from the internal (or external) database to find a company matching the network. To this end, LeadRebel, like comparable software providers, maintains an extensive company database that LeadRebel moderators manually curate should automatically aggregated data sets be insufficient.
The result of this largely automatic process is displayed on your dashboard as a list of organizations that have visited your website. This is (almost) the whole science behind website visitor recognition.
The tools differ in the use of cookies, though. As mentioned above, the use of cookies by website operators is becoming more and more restricted. LeadRebel uses a few optional cookies, but they do not limit the functioning of the software if they get blocked.
Factors Influencing Website Visitor Recognition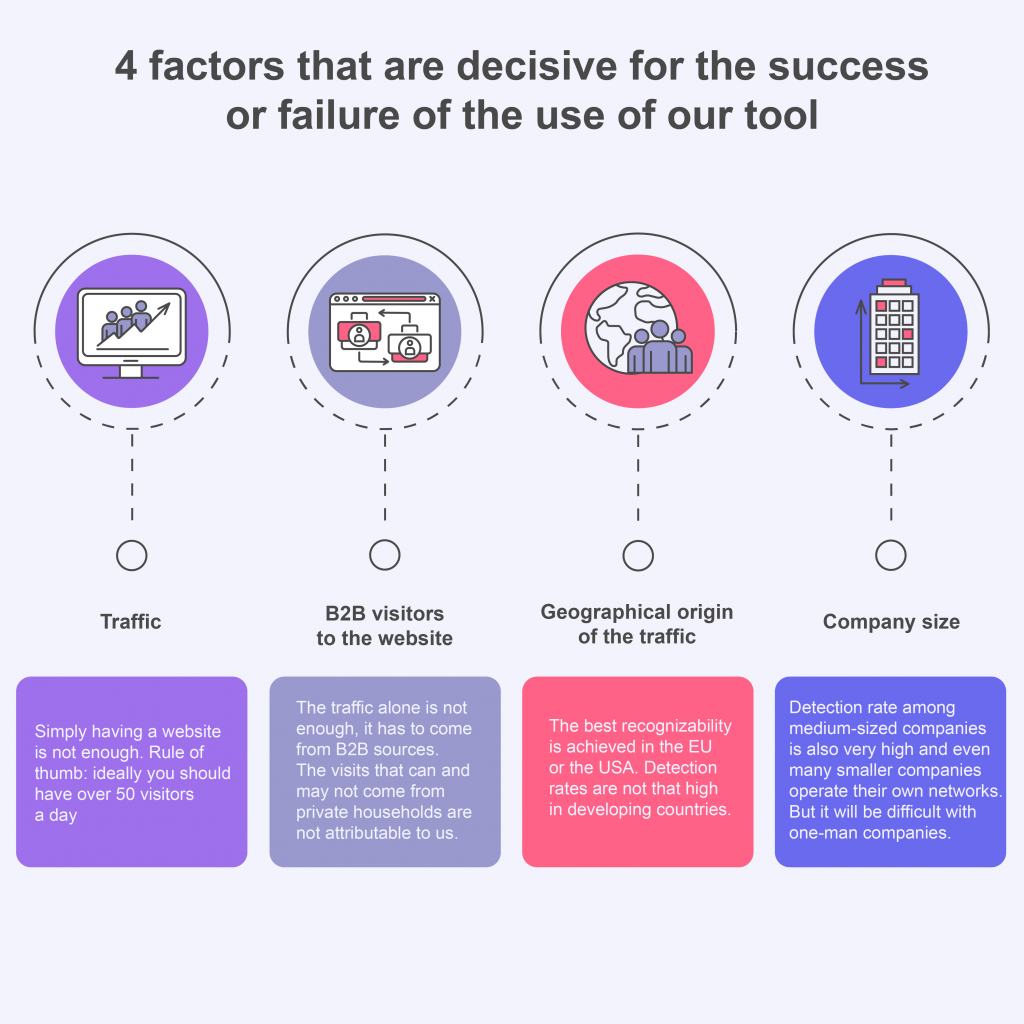 What do you need for our software to identify your website visitors? There are several "ingredients" that determine the success or failure of this technique.
Traffic: Having a website online alone is not enough; it must attract visitors too. The more visitors your website has, the more the software will recognize. If you find yourself with insufficient website visitors, this article may help you with generating more traffic. As a rule of thumb, you should have more than 50 visitors per day. Of course, the methodology works just as well with less. Yet, you should ask yourself why your website draws such a small audience.
A significant share of B2B visitors to the website: A fountain of traffic will not benefit you much if it does not come from B2B sources, that is, from corporate networks. We cannot and must not assign visits from private households. Business-to-business traffic can come in different shapes and sizes: Some companies receive mostly business visitors, while others have hardly any corporate visits. As a consequence, our software detects between 5 % and 30 % of website visitors. Using the tool at LeadRebel, we enjoy a detection rate of about 20 %, which means that 20 out of 100 users are recognized as companies. Please keep in mind that these ratios are subject to weekly and seasonal fluctuations. This means LeadRebel will detect fewer website visitors on weekends and during the vacation season than on weekdays and off vacations.
Geographic origin and company size also matters
Geographic origin: The recognition rate differs with the country from which the website is being visited. The highest recognition rates are achieved with B2B traffic coming from the EU or the USA. In emerging markets, recognition rates are typically lower.
Company size: Needless to say, large companies are more easily recognized than small ones. Here, some skeptics might object that knowing that someone from Apple or Microsoft has visited your homepage will not benefit you much. While this is true, the good news is that the recognition rate among mid-sized companies is quite impressive, and even many smaller companies operate their own networks. Discovering self-employed individuals, of course, is a trickier task.
Interim conclusion:
Being a B2B company with a high percentage of business-to-business traffic and more than 50 visitors per day, preferably from SMEs in the EU or the US, you must use the website visitor recognition software. Why "must"? As a matter of fact, most of your competitors already utilize such software and thus have a strategic advantage over you.
What Do I Need to Do to See Who Has Visited My Website?
Above, we have already touched on factors influencing website visitor recognition. They are the foundation for working effectively with LeadRebel but are only part of the overall process.
What you should do and pay attention to:
Ensure that you have enough traffic coming to your website.
Embed the tracking code on your website. If you are using a popular CMS, ensure that any plugins do not block the tracking code.
Share the software with your colleagues.
Add the text module provided by LeadRebel to your privacy policy. It helps you use visitor recognition software in a GDPR-compliant way.
That's it! You are all set to see who is visiting your website.
Legal Aspects of Website Visitor Recognition
At LeadRebel, we had a detailed legal audit conducted on the use of our software. This proves that you can confidently use LeadRebel as part of your sales process. Verdict: Our software is GDPR-compliant.
The critical element here is that we are not collecting any personal data of website visitors. Instead, we work exclusively with company data that are publicly available anyway. The IP addresses that we analyze are solely used to identify the corporate network the traffic is coming from and not the individual user.
Also, you are in good company. Website visitor recognition methods are widespread and used by many companies, including enterprises with rigorous compliance requirements. They all want to know who is visiting their websites.
When using LeadRebel, keep in mind to add the provided text module to your privacy policy. Cookies placed by LeadRebel are detected and classified by most cookie scanners automatically. You may also briefly mention using LeadRebel for website visitor recognition by including a note in your cookie banner.
How Do I Integrate Website Visitor Recognition Into My Sales Process?
There is no one-size-fits-all solution to this, as each company has its own unique sales process depending on its industry, company size, and various other factors. It all comes down to seamless software integration into your workflow, another strong point of LeadRebel. Using our software purely for informational purposes is not a good idea. You will harvest the biggest payoff when you proactively target leads and try approaching customers.
Find out how we use LeadRebel for our own sales activities, along with three case studies from our customers.
Below is a summary of our in-house process:
Edit leads: Skim through recognitions, purge or block list non-interest visits, tag interesting website visits, and export them to CRM.
Find your point of contact: There is a feature for it in LeadRebel. If no suitable contacts can be found, we search the website or LinkedIn ourselves.
Outcome: Out of 1000 website hits, we identify on average 200 organizations. After filtering out all irrelevant visits, 100 companies remain; about 20 respond after being approached, and five sign up. By this activity, our conversion rate increases by 0.5 %, which is not that bad compared to a typical conversion rate of 2 %.
That's how we do it. However, you should incorporate website visitor recognition into your sales process based on your requirements. To accomplish this, consider the following:
General
You ought to have someone who analyzes the identified website visitors and distributes the data to your sales team. This is enough if this activity is performed once a day (depending on the number of leads captured daily).
Reach out to these contacts indirectly (like we do) or call them straight up. The latter is often more effective because the one-hour rule applies here: prospects are most responsive within an hour of inquiry (or visit). Suppose the contact is made within an hour, there is a high probability that the visitors are still considering the offer.
Do not mention to the customer that you have identified them as visitors to your website; many dislike to hear that. If someone complains about "your spying methods," just apologize and acknowledge the complaint. As we have explained, the procedure is harmless in terms of data privacy law (concerning competition law aspects, everyone should decide for themselves and clarify which strategy is acceptable in more detail. Please refer to our checklist for outbound sales).
Use a CRM system. Not even the best website visitor recognition software can replace CRM — nor can LeadRebel. If you cannot find your CRM on the integration list, please feel free to contact us at info@leadrebel.io.
If you prefer working with email marketing, do your best to automate the process. To do so, Zapier is particularly well suited, but you can also use our native API to integrate with CRM and email marketing software. This way, you combine the benefits of website visitor recognition software with other lead generation solutions. A good overview of such applications can be found here and here.
Integrate your website visitor recognition into your sales funnel and measure KPIs.
Helpful LeadRebel features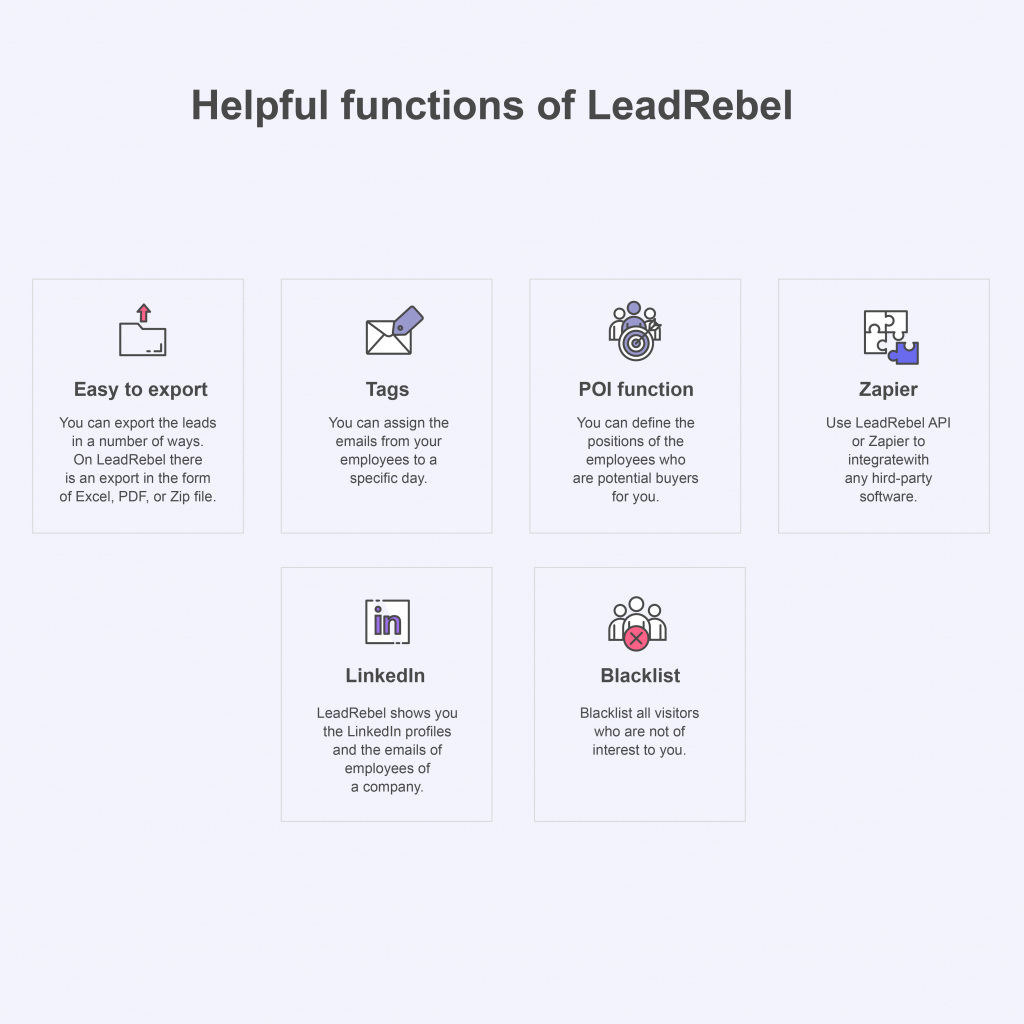 You can export leads from LeadRebel in various ways (e.g., Excel, PDF, or zip file), either individually or in bulk as a list. Then, simply email the leads to yourself (or your coworkers) or export them right into your CRM of choice.
Work with tags. You can assign a staff member's email to a tag label. For example, if the email address stefan@beispiel.com is given to the tag "Stefan," any leads tagged in this way will be sent directly to "Stefan" once you choose to forward those leads by email.
Use the Person of Interest (POI) function. This feature allows you to define the roles of the employees you are targeting as potential buyers (e.g., Sales Manager, Marketing Manager, CMO). If you define POIs, they will be displayed at the top of the list when you search for employees in a company.
LeadRebel will show you the LinkedIn profiles and emails of employees in a company saving you time-consuming research.
You can add all the visitors which are irrelevant for you to the blacklist. This is a great way to clean up your dashboard over time from recurring entries that are not in your focus, be it competitors, offices, or other sources.
Impact of Website Visitor Identification on Your Marketing and Sales Activities
Our article on sales funnels clearly illustrates the impact that software like LeadRebel can have on your KPIs. Let's compare two sales funnels, one with and one without website visitor recognition software:
Traditional funnel based on the following assumptions:
2000 visitors per month
2 % traffic conversion rate (i.e., 2 % of visitors send a request and register for a free demo)
5 % lead conversion rate (rate of active visitors who became paying customers)
Traditional funnel: 2000 visitors * 2 % * 5 % = 2 customers/month
Now we deploy LeadRebel with the following assumptions:
2000 visitors per month
20 % of visitors are recognized by LeadRebel
50 % of discovered website visitors are relevant and can be addressed directly
2 % lead conversion rate (rate of relevant visitors converted into paying customers)
LeadRebel tunnel: 2000 visitors * 20 % * 50 % * 2 % = 4 customers/month
You have already doubled the customer acquisition rate with a lead conversion rate of "just" 2 %.
Needless to say, it takes much work and requires solid sales skills (both online and offline) to achieve it. But as you can see for yourself, combined with LeadRebel, your efforts directly leverage lead conversion rates because you are able to focus on the relevant visitors.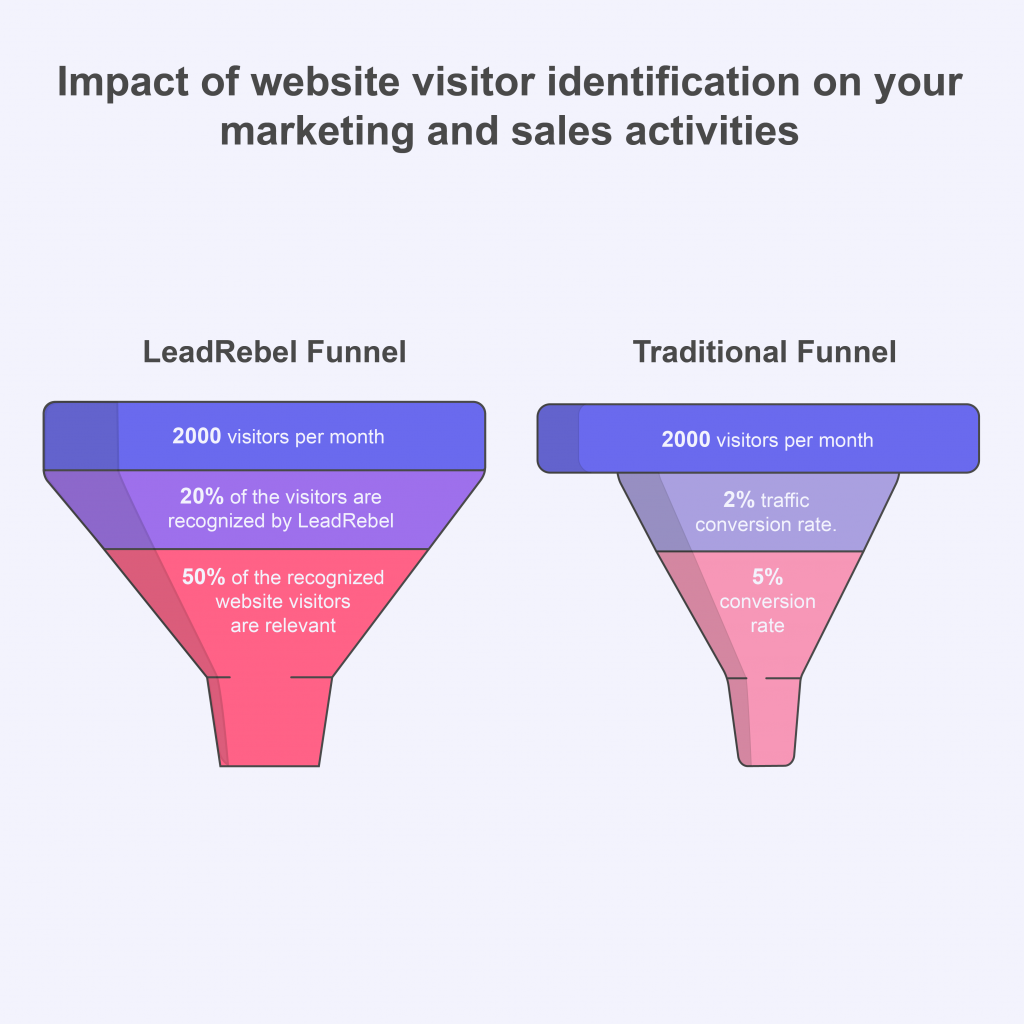 Let us recap the main advantages of website visitor identification:
You know which companies are visiting your website.
You know what companies are interested in.
Was it product A or service B? How long did these visitors remain on the respective page? With this, you can directly target the visitors.
You know what is happening during a visit.
You can watch a video recording of it. What did the visitors click on? Which sections caught their interest?
You have a point of contact.
You no longer have to search for contacts at potential customers manually. On LeadRebel, they are just a click away.
Will steadily receive "warm" leads.
Continually extract leads from your visitor stream at a much lower price than, say, Google Ads.
You watch the competition.
Capture competitor traffic and can detect threats promptly.
So You should ideally complement LeadRebel with other tools for maximum impact.
What Are the Tools That Should Be Used to Complement Website Visitor Identification Software?
For marketers and salespeople, it is exceedingly helpful to know which businesses have visited their company websites. But visitor identification software alone won't get you very far. There are numerous tools available to help you better evaluate the results and target your prospects. Here's a quick rundown of which tools you can use to automate your lead generation and sales funnel:
5 useful tools to automate your lead generation
CRM. Whether it's Salesforce, Hubspot, or any other CRM. Thanks to the API, you can conveniently import the leads from LeadRebel into your CRM and process them there. Additionally, many CRMs allow for data enrichment and feature automatic email sequences, which can help you automate your sales process even further.
Email Marketing Software. Tools like Mailchimp, ActiveCampaign, and Sendpulse are another great addition to visitor recognition software. Take a look at Mailchimp, ActiveCampaign, or Sendpulse. By using them, you can segment the detected leads according to various criteria and create automatic email sequences to power your lead generation.
Buy Leads. In this article, we have described where and at what price you can buy leads. You can, for instance, purchase a record of potential customers in your target market and import them into your CRM. Then, you approach the potential customers and measure in LeadRebel who responded to your pitch and how. Next, you export the visits to CRM and enrich the existing records with information from LeadRebel. With such in-depth information, you can now talk to your potential buyers again in a very targeted way.
Use LinkedIn Sales Navigator. LinkedIn is a beneficial tool for B2B lead generation if you know how to leverage it. If you need even more data about your website visitors, make use of LinkedIn Sales Navigator.
There are plenty of other tools and software solutions that you can combine with website visitor identification software. We will be happy to advise you on this matter. Just contact info@leadrebel.io.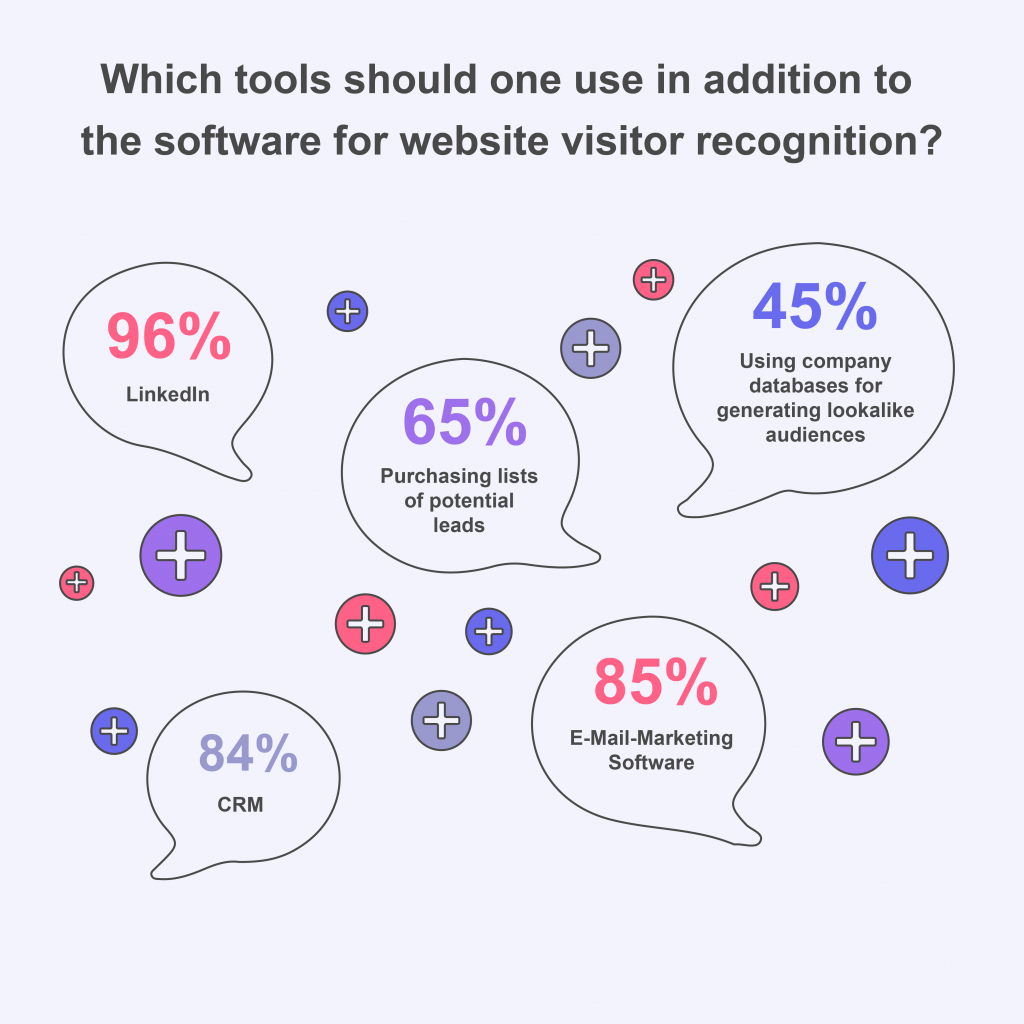 Website Visitor Identification — Conclusion
Website visitor identification technology is a powerful weapon in your marketing and sales arsenal. But this marketing method is not a silver bullet. What you need is a functioning website, enough B2B traffic, and the desire to integrate this lead source into your sales process in order to utilize it for your company.
Appropriately used, website visitor identification software like LeadRebel turns into a veritable lead powerhouse that can meet the lead nurturing demands of many B2B companies. It generates "warm" leads and empowers your sales team to convert your visitors to new customers successfully. Sign up now to get a free trial account.
Translated by FabForward Consultancy