10 Best Live Chat Tools to Boost Your Lead Generation
Live Chat Lead Generation
Cold emails, ad campaigns, and social media messaging are some useful ways to get the job done when it comes to lead generation. However, if you want to get ahead of your competition and stand out among the other leading brands in your industry, live chat can do wonders. We are all familiar with the fact that the impact of live and instant communication without long pauses is much deeper than any other method.
How to Identify a Good Lead Generation Tool?
Getting your hands on the right lead generation tool can be a blessing for your organization as it can help you scale faster, make vital contacts, and open new ways to a successful world of sales and marketing. However, with so many options available out there, picking the one that's suitable for your needs can be a bit overwhelming. Here's how you can determine which is best for you.
See if the tool is convenient to use and how soon you can create a campaign on it and make it go live.
Does it have all the features you're looking for to streamline your lead generation campaigns?
You will already have some marketing tools, so ensure that this new platform integrates with the existing ones.
Budgeting is an essential part. Don't spend too much on a tool that you won't utilize later.
Ways to Use Live Chat for Your Lead Generation
Live chat sessions are much more effective than any other lead generation strategy, and as per a study, 38 % of users reached via a live chat platform said they like the concept.
Mobile application
Most of the users are comfortable using their cell phones. Therefore, offering them a user-friendly mobile version of a particular platform can increase the engagement rate. Also, they can use it anywhere at any time, unlike on a laptop or PC.
Personalized experience
Getting to know each customer's campaign and business background can be a personal experience in offering appropriate assistance. But, make sure to be friendly and not too pushy. That's something people hate about sales agents.
Real-time assistance
A customer who gets all the answers instantly is highly likely to decide much faster than those who wait for hours to get further information on a particular subject. Offer a free trial or special packages right there and then.
10 Must-Have Lead Generation Live Chat Tools
Let's look into ten leading lead generation live chat tools that can make your team's whole process much more effective.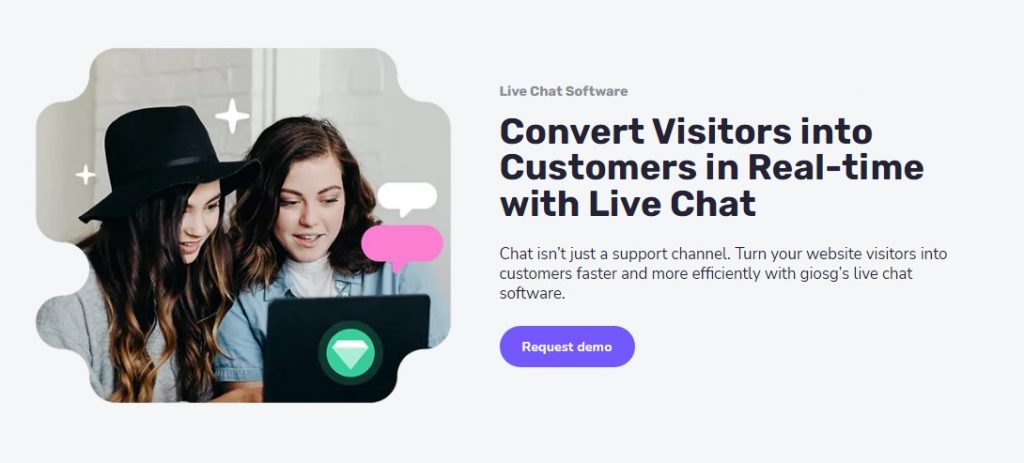 As a company representative, what are the things you look for in a live chat tool? First and foremost, the integration options, ease-of-use, and convenient navigation. These are the things Goisg offers. You can scroll through their platform and see that a lot of effort has been put into the design. It also provides voice and video call integration alongside live chat. The features that set this tool apart are multiple templates and targeting rules to ensure a positive outcome and high conversion rate.
As far as the positive aspects of this tool are concerned, there are plenty—seven simultaneous chats, automatic call routing, and available for desktop and mobile. On the downside, the learning curve could be a bit steep because of its powerful features.
Pricing structure
With a free trial version, you can get familiar with most of the features before you sign up for a paid subscription at US$55 per month.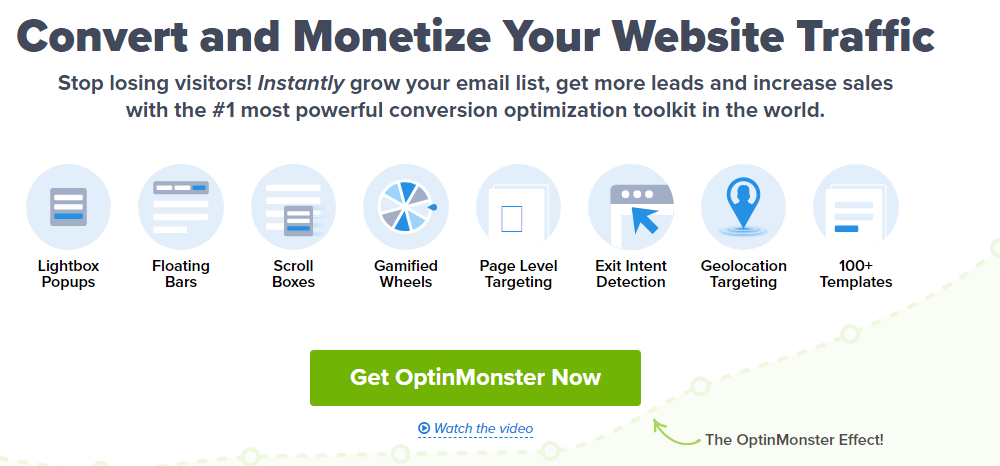 You will be familiar with this tool if you are even remotely involved in the sales and marketing world. Not only does it offer everything you need as a salesperson, but the smooth and seamless experience for your prospects is something to watch out for. In addition, detecting and understanding buyers' behavior can be groundbreaking for your marketing campaign. Therefore, you should integrate it with leading email marketing tools and set the advanced targeting rules for maximum ROI.
It has many benefits, such as easy to set up forms and integration. Yet, you cannot buy a monthly package as they only offer yearly plans.
Pricing structure
No free trial, but they do offer a 14-day money-back guarantee. And for a single website, the paid subscription starts at US$19 a month.
3. Live Chat Lead Generation : Hootsuite

Social media platforms are vital in lead generation, and this tool specializes in that. Integrating all your social media can let you manage multiple things with ease and effectiveness. It's amazing how a single dashboard can offer so many features. Not only does it provide ways to connect with your leads via live chat, but it also tracks the activities and offers real-time statistics and reports.
Pricing structure
You'll have 30 days for testing out Hootsuite. At the end of this free trial, regular billing begins, and it's based on your chosen plan, starting at $19 per month for a Professional plan.
4. Live Chat Lead Generation : LiveAgent

As the name suggests, this tool provides real-time communication with your audience. Unlike others, this one offers some unusual and exciting features, such as options to customize your chat windows by using brand colors and design. In addition, you can play around with the chat buttons to make the process more exciting and engaging. There's no need for a programmer to integrate it to your website, just copy-paste the short HTML, and you'll be good to go.
Unfortunately, the Instagram and WhatsApp integration is not available as yet.
Pricing structure
A 30-day free trial lets you explore the features and make up your mind before purchasing. Paid subscriptions start at US$15 per month.
5. Live Chat Lead Generation: LinkedIn

LinkedIn's sales navigation tool is your best bet when dealing with B2B lead generation. It provides opportunities to connect with people who are highly likely to be interested in your product and assists you throughout the process. You can also integrate it with your CRM platform of choice. With email alters and insights into the stats, this tool will do wonders for you.
Pricing structure
After a free one-month trial, you can hop on to a paid subscription that starts from US$65 per month.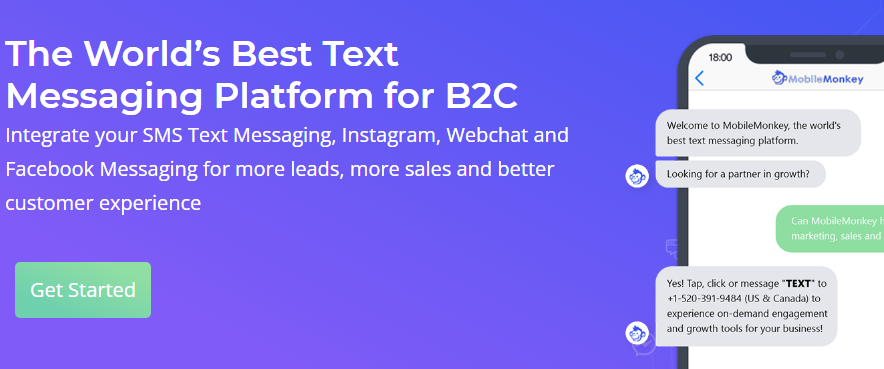 Your potential customers are not sitting on their laptops all day long waiting for you to reach them. Hence, a platform on cell phones is highly essential in today's marketing world. MobileMonkey lets you send emails, surveys, or initiate live chats and voice calls. However, for SMS Marketing, customers will have to opt-in and subscribe to your text messages.
Pricing structure
You can visit the website and request a free trial version by sharing your requirements. Once you're sure about the tool, the team at MobileMonkey can help you out in subscribing to the right monthly plan.
7. Live Chat Lead Generation: HubSpot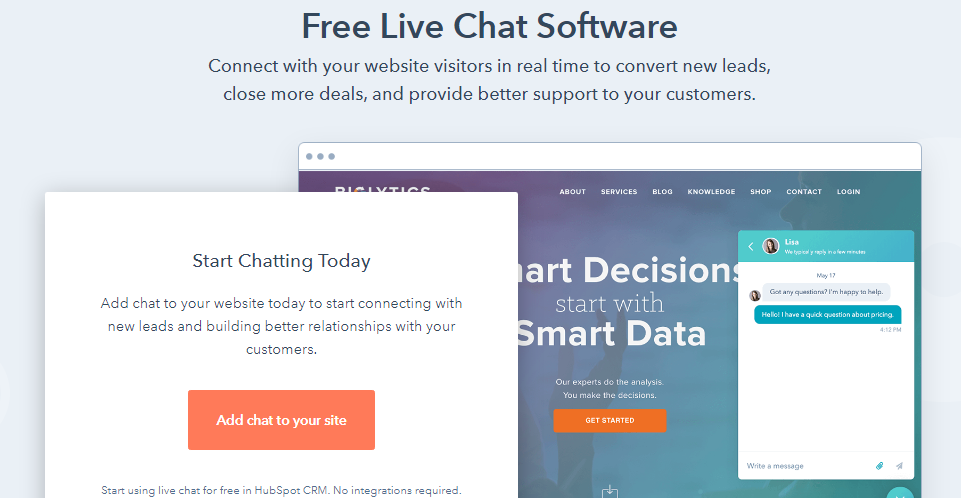 HubSpot is one of the finest live chat software solutions that can let you interact with website visitors right there and then. All team members can be connected via this platform, and the queries can be transferred to the concerned person seamlessly. Along with free Slack integration, it ensures that all your conversations get saved automatically.
On the other hand, no audio/video calling or screen sharing features are available.
Pricing structure
The free version is available but with HubSpot branding. Pay US$43 a month for a starter subscription plan.
8. Live Chat Lead Generation : Chaport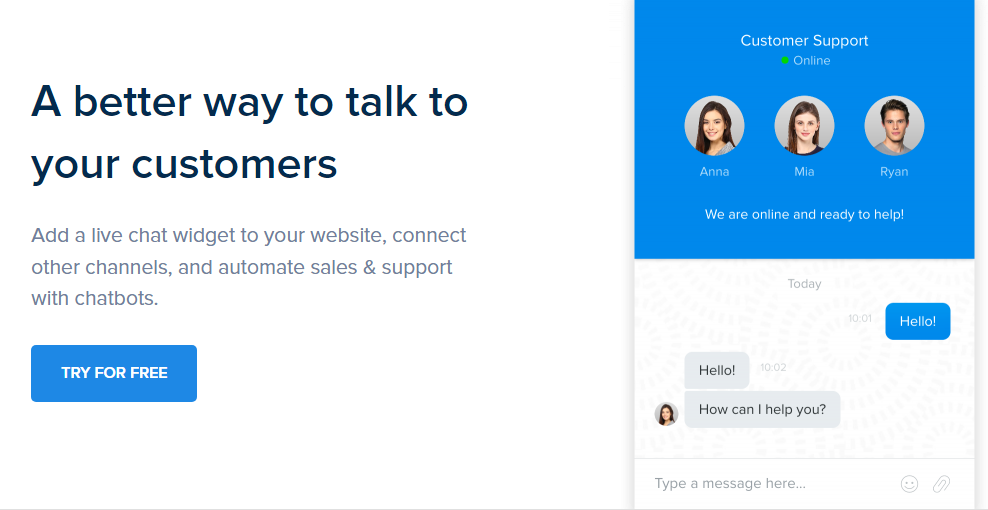 Chaport is the "best way to talk to your customer," as they say on their website — and it's true. The super-smooth and user-friendly interface are easily adaptable for those with some technical background. You can add live chat widgets to your website as well as chatbots for a maximum outcome.
It keeps your chat history intact for future analysis. However, the integration information might not be enough for those using such a live chat platform for the first time.
Pricing structure
Apart from a free version, it offers a monthly package of US$14.35 per operator.
9. Live Chat Lead Generation : Intercom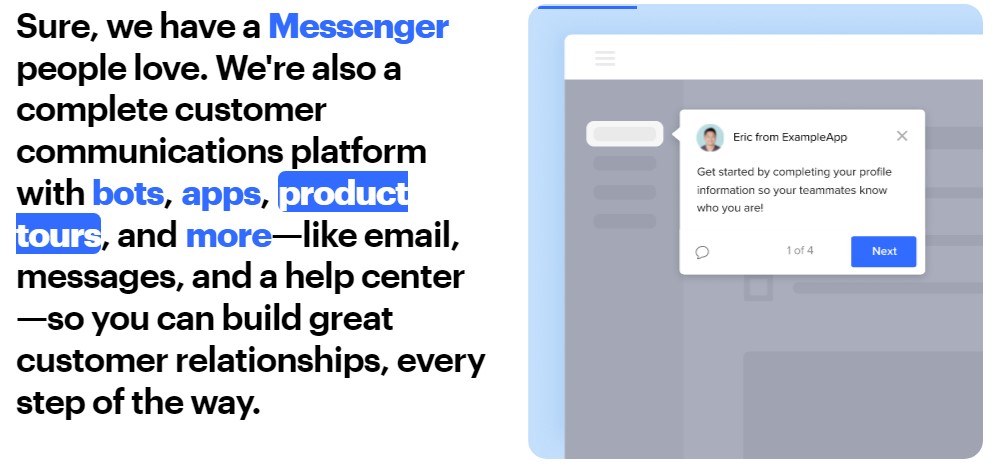 This tool fulfills your sales team's lead generation needs for a conversational relationship with your prospects. Intercom helps you approach your prospects in a smooth, seamless, and effective way that they can't resist taking action. In addition, it lets you schedule meetings for the future and analyze the data for better strategic plans.
Pricing structure
For SMBs, the tool comes at US$49 per month in the first year.

Leverage MyLiveChat to get closely and effectively connected with your prospects. One-on-one conversations with your website visitors will ensure efficient outcomes with the help of this tool. It offers file-sharing features and is available for iOS as well as Android. Although you can use the automated personalized greetings, the makers could have done better with the dashboard design.
Pricing structure
They offer a free version to help you get familiar with the features. Then, once you're ready to go all-in, the paid subscription is US$14.51 a month.
Live Chat Lead Generation : Conclusion
On a concluding note, live chat is essential for lead generation in this cut-throat innovation market. Reach your prospects sooner than your competitors and approach them using the best live chat tool.
If you enjoyed this post, you'll find these articles useful:
Image source: People vector created by stories – www.freepik.com