Top 10 White Label Marketing And Sales Software Agencies
White Label Marketing Software
In today's age, automation software is necessary for any marketing and sales business. No matter how skilled the individuals in an organization are, the importance of marketing tools cannot be denied. For effective outcomes with minimal effort in this cut-throat market of innovation, we need to modernize our ways to stay in this race and win. 
What is white label marketing software?
Marketing and sales agencies work with multiple clients at the same time. Sometimes it can get complicated to keep track of stats, audits, and analytical reports for each one of them. Since every company has a unique set of goals, marketing techniques, and content creation strategies, the approach to managing all these aspects needs to be different as well. That's where the white label software comes in. White label marketing software is third-party software that an agency utilizes for their marketing tasks such as digital marketing campaigns or marketing report delivery. 
Who needs white label marketing software?
Any digital marketing specialist or agency looking to streamline their everyday operations can do so with the assistance of social media posting calendar. Apart from marketing and sales, some white-label software also works as an online workspace for PR, SMM, and web content management.
Benefits of white label software
The use of white label software can streamline marketing specialists' rather complicated and tiring duties. Here's a list of tasks that white label software can take over so you can focus on the creative side of the marketing and sales process:
You can create email templates for new and recurring clients/customers
Can help with B2B lead generation
It collects all the reports and website analytics in real-time
It manages and maintains multiple channels simultaneously to build a customer relation
Its helps agencies generate comprehensive reports for their clients to show progress and growth over a certain period
Top 10 White Lable Marketing Software
We've compiled some of the best white-label programs for the marketing and sales industry that deliver greater efficiency with minimal effort.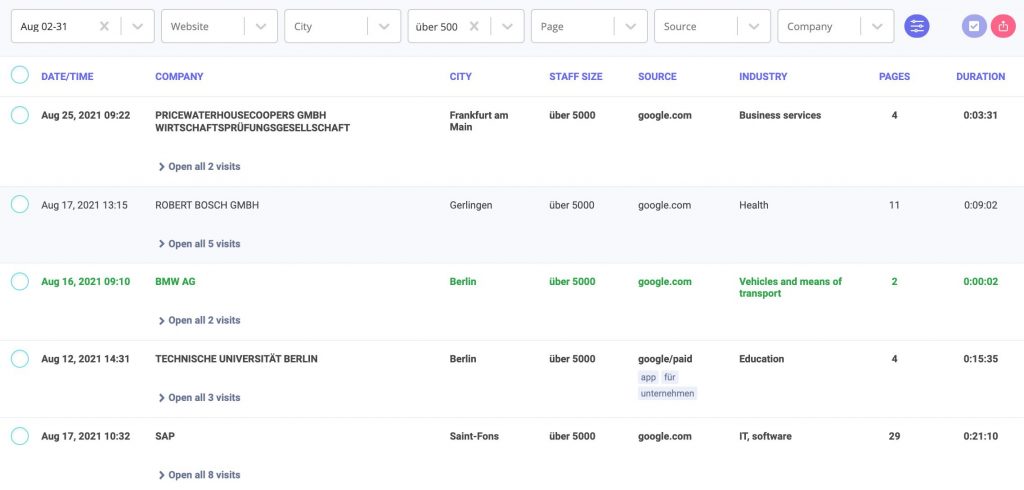 LeadRebel is a B2B lead generation software that enables marketers to keep an eye on a website's stats and analytical reports. It shows where your website traffic is coming from and the contact information of the visitor. So basically, the traffic your website has, the more beneficial LeadRebel will be in sorting out the required information. 
How difficult would it be to reach out to people who visited your website but didn't leave any trace of information? Studies show that around 98% of the visitors never interact on a website. LeadRebel also provides a complete guide for website visitor identification. LeadRebel gets you that information in real-time identifies the companies that visited your website, as well as the products or services they are interested in.
Integrating the tracker is hassle-free, and the dashboard can operate intuitively. Moreover, LeadRebel offers a competitive market price of 19 Euros/Month along with a 14-day free premium version.
Whatagraph is yet another fantastic project tracking software for digital marketing, offering convenient and efficient outcomes by gathering all campaign results in one place. Keeping up with numerous social networking platforms can be a real pain in today's advanced technological era. That's why you should always try to enhance your digital methods and make your work easier using relevant marketing tools.
To manage all your social networks at once, Whatagraph is equipped with all necessary functions. It integrates with all social networks such as Facebook, Instagram, Twitter, LinkedIn. So you can stay up to date about the engagement and conversion rate. Email services such as Zendesk or MailChimp can also be integrated alongside Google Analytics, Ads making planning your next B2B lead generation and marketing strategy easier.
There's no need to create multiple sheets for data analysis as Whatagraph software offers all key metrics in one detailed document for US$ 139/mo.
Monitoring your campaigns and creating lead magnets has never been so easy. ActiveCampaign, being the most sought-after white-label software, offers a smooth and seamless marketing automation platform. With so many sales opportunities at our disposal, we must make the best use of each of these.
Managing them well can be tricky. But with software like ActiveCampaign, you are in control of your email and digital marketing. With ActiveCampaign, you can set up lead capture and customer relationship management under one domain.
Getting valuable marketing insights and using them to strengthen your customer relationships is the key to boosting your sales. ActiveCampaign's price starts at US$ 5/mo with a 14-day free trial.
This software stands out because it offers agency reports and automates the entire reporting process. It also delivers it to the clients proactively. Measuring social media metrics, email reports, and analytics from other marketing services all in one place is what this software is best known for.
It offers several custom dashboards to set up your social profiles and choose metrics such as followers, mentions, etc., to measure your performance.
Although no free trial period is available, a free starter plan with limited functionality makes it easy to explore the Databox features. Then, after using and learning the benefits the software offers, you can make a purchase decision quickly. Databox's price starts at US$169/mo.
HighLevel proves to be extremely helpful in marketing campaign automation and building lead generation through a 3-stage-funnel: capturing stage, nurturing stage, and final conversion.
With this tool, marketers can target their potential customers with surveys, sign-up pop-ups, and sign-up forms. Then, moving towards the second stage, agencies use audio calls, SMS, social media messaging, and email marketing to persuade prospects and make a purchase.
Automated lead nurturing is made simple and convenient by HighLevel white-label software. The tool also helps to monitor campaign analytics, schedule appointments, and collect payments at the conversion stage.
Landingi helps you scale your marketing efforts with this state-of-the-art platform and ensures better outcomes. Apart from landing page solutions, this is an all-in-one tool that provides a pop-up maker you can integrate with leading email services. Since multiple landing pages and image libraries can be created, it is best suited for marketing agencies.
With over 40 integrations to connect your landing pages with other apps, Landingi also offers multiple sub-accounts. Landingi's landing pages also support lead generation and push those leads to your CRM and email marketing.
With a 14-day free trial period, take all the time you need to explore the tool. Then sign up for an annual plan starting from US$ 55/mo.
Would you like to stay up to date with your client's requirements and your team's progress regarding specific tasks? Well, look no further because DashThis offers all the essential features and functions for your marketing team. With this tool, you can collect analytics data from multiple sources, such as Facebook campaign stats, Google analytics, or Instagram Ad insights, for an effective lead generation process.
You can save these reports as PDF, share them directly via email, or schedule them through other services such as Mailchimp. DashThis is the simplest and most effective way to create comprehensive client reports within the platform. A 15-day free trial period with no restrictions can help you explore powerful features. 
The brand awareness aspect of marketing can safely be considered one of the most critical elements. Mention uses social media and other platforms to ensure maximum brand outreach, helping you engage new customers to improve your online reputation. This tool has made comparing and analyzing online conversations simple by tracking a particular brand and its competitors. These insights help users create compelling content to ensure maximum sales and lead generation from their campaigns.
Mention is real-time reputation management that is handy and comprehensive; it is easy to use, even with limited experience.
BrightLocal provides regular reporting and analysis, with the ability to make it instantly presentable to the board of directors. Easy and unlimited customization options make things super exciting. You can create multiple white label profiles without extra charges if you manage different websites or clients.
They offer a 14-day free trial version.
Awairo is one of the leading white-label marketing and sales software. It is responsible for ensuring that user-generated content posted on an online platform is permissible. Awario makes sure all content—be it videos, images, or articles on social media, forums, and other online platforms—is fit for general public consumption. To make the most out of this powerful tool, all you need is to create a project with ranking keywords related to a particular brand in question. Awario will do the rest and scan all integrated social networks, blogs, and websites. It offers you a complete report of conversion rate, SEO analysis, lead generation opportunities, and so much more.
White Label Marketing And Sales Software Agencies: Conclusion
On a concluding note, you must always go for a white-label tool that aligns well with your agency's core values and requirements.
By partnering with white-label marketing and sales software agencies, you can save on branding and marketing costs and much more. That's why selecting a reliable, high-quality white-label marketing company is a massive deal, as you are merging another agency's digital marketing services into your business. So, you must carefully assess the quality and trustworthiness of the partnership providing these services.