Sales Automation 2022: Processes, Strategies, Tools
Whether scheduling calls, composing emails, or classifying prospects: Administrative tasks like these are the sales teams' biggest time wasters in the B2B sales process. The quickest solution to deal with such unproductive duties is sales automation.
In this guide, we cover the B2B sales cycle and introduce software that saves you time at every step. You will get all the answers to which process steps can be automated when it comes to customer contact, lead generation, quoting, follow-up and closing.
What is sales automation?
Sales automation, made possible by software, artificial intelligence, and other digital tools, can eliminate time-consuming, repetitive tasks. Such process automation allows sales staff to focus on their primary tasks instead.
Such digital tools aim to relieve the burden on sales staff and managers by having the software tools manage or execute various tasks. Your company, your sales team, and eventually your income statement will benefit from it several times over.
On top, with sales automation software, your sales process will become more reliable because a well-oiled sales process makes it easier to identify and close process gaps.
What is B2B sales automation good for?
The main benefit of sales automation is that sales teams work more efficiently. Thanks to your digital assets, you
attract more attention with the same workforce as before;
may conclude larger framework agreements.
This is based on the assumption that even top trained sales personnel cannot achieve the same leverage as sales automation. 
It centers around your current web presence, like web stores, sales portals, etc. They make up your "office," which is open 24/7 and turning these digital assets into a piece of machinery to attract potential customers is more than evident.
Automate sales: The sales process steps
If your sales process framework is not firmly established, the best software on the planet will be of no use. Therefore, sales preparation includes tasks such as building customer profiles, determining needs, and making offers. We thus define six steps (or phases) in the B2B sales cycle.
Phase 1: Increase traffic
If you need to increase your direct traffic, the following measures will have a speedy effect. 
Simplify URLs: Short URLs and a catchy brand name make it easier for your customers to type your URL into their browser.
Place Ads. Google Ads is an online advertising service for businesses that want to place ads in Google Search and the Google Display Network. Work smart when you deploy paid traffic.
Google Ads Dashboard Overview: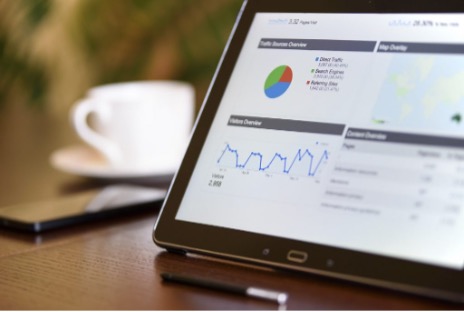 Source: https://pixabay.com/de/photos/digitales-marketing-technologie-1433427/
Invest in brand awareness: Your clients need to know your brand. Online marketing tactics, such as displaying ads on Facebook, Google, and YouTube, help increase brand awareness and drive more direct traffic.
Besides, B2B entrepreneurs can use tools to increase online traffic, such as software applications that manage SEA or SEO campaigns. 
For this step, Andreas Knipp from Knipp Financial Services GmbH & Co KG (our B2B example company) uses OMP Tools, a system that helps him create, manage and optimize Google Ads and Microsoft Advertising campaigns.
Its campaign auto-generation allows creating 5,000–50,000 keywords and from these 1,000–6,000 ad texts for campaigns, which can be divided into 300–1,500 ad groups.
How does it work exactly? 
Optimize the website for more search traffic
The foundation for any successful campaign is website optimization. You cannot skip search engine optimization (SEO) in this area. The importance of SEO is still undaunted, which is why there is a vast selection of SEO tools.
Which SEO tools are available?
Google Search Console
Ahrefs
SEMRush
Linkresearchtools
OpenLinkProfiler
Ryte
Searchmetrics
Google Search Console is a must for every webmaster. The search engine giant provides free, useful tools to help B2B companies with search engine optimization.
In this phase, Andreas Knipp uses PageSpeed Insights (the tool suggests ways to improve the page load time). He gathers even more information with Google Analytics, which visualizes how users behave on Knipp's website. The data will tell whether there are problems with crawling the website or what to optimize for smooth mobile access. Thirdly, you get information about which keywords the visitors have used to come to your website. You can register for the service free of charge.
Google Search Console Dashboard: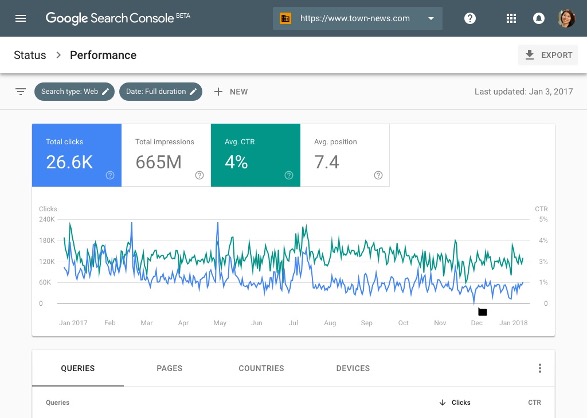 Source: https://t3n.de/news/google-neue-search-console-904176/
Phase 2: Lead generation
Once you have optimized your website, you build a connection to the outside world and establish contact with the customer. Tools you can use at this stage include inbound marketing solutions such as Hubspot or BenchmarkOne.
Knipp has installed a chatbot on his website that automatically handles customer inquiries and educates his clientele about the different website areas and the login area. 
Intercom offers an all-in-one solution for customer communication.
If you pursue an outbound strategy, lead generation software like LeadRebel is for you. These kinds of tools are based on tracking website activities. We have integrated website activity tracking as part of the standard solution.
With this, you can, for example, automatically recognize companies and organize leads, get insights into which companies visited your website and which specific pages the potential customer searched for. You can also view a video recording the visitor's behavior and respond to it. Automatic lead qualification makes it possible to target the customer specifically. According to their surfing behavior, you can tailor how to contact them.
Also, numerous integrations simplify your daily work. Simply check it out!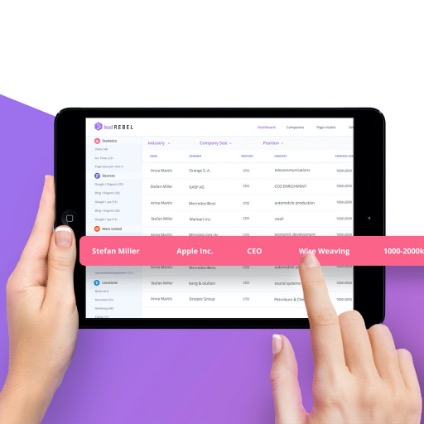 Phase 3: Approach the lead
Now that you have qualified the lead, you need to decide how to approach the potential customer. Manual work is no longer necessary, as approaching contacts can also be automated.
Andreas Knipp has chosen BenchmarkOne (Hatchbuck). This sales and marketing software combines email marketing, CRM, and marketing automation in a single platform. It is suitable for SMEs from a wide range of industries and helps them drive their marketing and sales.
Other tools that are helpful at this stage:
Email templates in CRM: If you want to contact many potential customers, it helps create some standard email templates in your CRM. They can be perfectly combined with marketing automation software.
This approach will save you time in this phase, plus, lead nurturing is not neglected. The software will also tell you whether the prospects opened the email and which links they clicked.
Knipp created email templates in BenchmarkOne that are sent to the lead in four sequences: First, he welcomes the customer and offers an overview of how his services will save him taxes; in the second email, he offers a link to a webinar for which the customer can register; the third email offers a trial version for a tax software Knipp distributes; in the fourth email, he submits an attractive offer to the customer.
He has also linked the tool to newsletter distribution so that the lead can stay up to date if they wish.
Knipp has further chosen to approach customers offline. To do this, he works with a partner agency—Telemail, in this case—which sends physical letters and handles cold calling as part of their direct marketing strategy. 
LinkedIn as a potential sales engine
For B2B marketers, LinkedIn is a goldmine. Similarly, inmail and message displays enable smart contacting. If you use Sales Navigator, you will be provided with additional information and can contact people directly who are not on your contact list yet. Another great way to target your audience is to use LinkedIn Message Ads: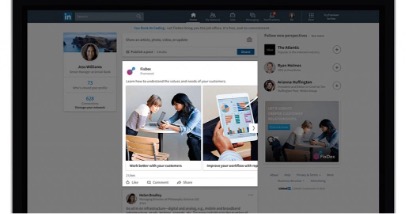 Source: https://www.searchenginejournal.com/linkedin-expands-sponsored-content-offerings-carousel-ads/257143/
If you use LinkedIn or Salesforce, you may not get all the email addresses or phone numbers you want. If this is frequently the case, Lusha is a useful plug-in for you. It connects to an extensive database of personal email addresses and phone numbers and automatically displays contact information within LinkedIn.
Phase 4: Check customer profile and CRM import
Once the lead is "warm," the next step is to automate contact management. A reliable CRM system supports you in phase four. Such a CRM tool is an essential component of sales automation. Think of it as the hub of a wheel: it supports the spokes and provides seamless turning. Many everyday activities bring the operation to a standstill because they take too long to complete. A CRM system helps to avoid this.
Knipp's CRM system performs the following tasks:
store contact details and information
log (potential) activities
show the type of contact
It also feeds data back into the other software tools you use for sales automation.
In terms of lead qualification, Knipp's CRM helps him communicate appropriately with his qualified lead. You can evaluate the lead based on the current data they have shared with you.
Data included in the evaluation are the lead's position in the company, the field of responsibility, the company size, its geographical positioning, etc.
When you implicitly score, you analyze the number of website visits, check the person's downloads, or look at how many emails they've opened. The more often visitors take some action, the greater your chance of turning them into customers.
In addition to BenchmarkOne, other CRM systems such as Dynamics CRM, SAP, or Salesforce can also be used to leverage your data. The stored information can be filtered, analyzed, and processed adequately for marketing campaigns.
Phase 5: Building trust – processing inbound leads as well as outbound activities
Nurturing and pipeline management: sales professionals need to make sure they nurture their pipeline leads. On average, the B2B sales cycle takes 6 to 9 months. That's a lot of time to "forget" about a lead. If that happens, there is an obvious cost to the company because time and effort were spent to woo the lead.
These long cycles' real costs are less apparent, but misallocated resources, inaccurate sales forecasts, and missed sales opportunities.
Correct lead management avoids such waste. Marketing automation software linked to CRM automates the contact flow. This ensures that you always have full control of the customer journey and that the customer thinks of you at the right moment.
For this purpose, Knipp uses Marketo. It can integrate with all major CRMs such as MS Dynamics, Salesforce, Infor, and SugarCRM.
Salesforce.com is also a well-known all-in-one solution. 
Phase 6: Closing & Onboarding
Finalizing the deal is now getting closer and closer. Even in the last phase of the sales cycle, there are tools available to automate transactions and serve you during lead transformation.
Many sales professionals still send quotes or offers in PDF format manually. A more professional and more comfortable way is to use quotation software that supports electronic signing. Such software offers numerous advantages:
Build complex quotes using drag-and-drop templates;
Integrate it with CRM so that you don't have to copy data from one system to another;
The software monitors the closing percentage in your sales pipeline;
Gain insight into when a prospect opens a proposal and which sections were reviewed for how long;
Customers can sign deals 24/7 and ask questions instantly.
Such software is one of the biggest time savers of all; software solutions in this area include Docusign and Pandadoc. 
Sales Automation – Conclusion
Getting more done in less time and with less workforce – thanks to technological innovations, this is achievable. All introduced automation software reduces the workload for you and your staff, allowing you to focus on your core competencies.
You have read how our sample company has automated all the steps of its B2B sales cycle. With this, you now have some tools at hand that will make your business life easier straight away.Using LeadRebel, you have a powerful tool at your disposal that integrates well with your CRM and provides all the information needed about your prospects in an instant. Try LeadRebel for free now!