Chat Marketing For B2B Lead Generation | How To Use Live Chat
Chat Marketing Chapters:
Introduction to Chat Marketing
Choosing the right combination of channels, platforms, and messaging to find great potential clients can be the most crucial and critical part of any marketing strategy. Setting the right foundation for a campaign is how companies ensure great outcomes. Determining the ideal leads is not the only factor that needs to be considered, as approaching them at the right time can have a major impact on how things turn out.
Some companies have been using B2B lead generation for a long time, using traditional email, social media, and content marketing to reach their prospects. But these means of conveying a message are not very effective, as the sender can never be sure whether the prospect will pay attention to it or not. Unfortunately, if the message goes through, there's no guarantee that the prospect will get back to the sender. One of the best ways to get your message across on a potential customer's screen in real-time is through live chat. The marketing process and having a prospect go through a sales funnel can speed up using this unconventional yet fruitful method.
Why Is Chat Marketing a Powerful B2B Lead Generation Tool?
Live chat has been a crucial part of the customer experience. Having an agent or chatbot ask the website visitor any questions about the product/service can be welcoming and personable. It also lets businesses communicate with their prospects as a B2B lead generation strategy. Chat marketing has become a significant possibility in capturing more leads and turning them into clients in today's digitally advanced world. A visitor is 2.8 times more likely to opt-in for a product with a live chat marketing feature, leading to a 20% increase in their conversion rate. Moreover, customers feel more comfortable leaving their personal information via chat over filling out a survey form on a website.
Here is a list that includes five reasons why chat marketing is one of the most powerful B2B lead generation tools.
Automated Sale Cycle
An automated sales funnel not only reduces the risk of marketing errors but speeds up the process and results in maximum outcomes as well. B2B lead generation companies utilize chat marketing to automate their sales funnel. Chats are a much more convenient and hassle-free method for monitoring prospects and convincing them to buy a product/service instantly. Direct human interaction has proven to be more effective in extracting used in-depth business data that is later used to engage sales prospects and pre-qualified leads. These leads become a part of the funnel, and the sales teams can then reach out to them for further proceedings. Sales teams can later use the same data to make an upsell as well.
Higher Conversion Rate
Chat marketing is a very personalized experience for customers as it is crafted while keeping customers' preferences in mind. Sales teams take their time collecting data on a specific visitor based on their journey on the website. That data is then leveraged to come up with questions and interaction ideas for a chat. The time a chat takes for getting in touch, making an offer, sharing details, and connecting to the sales team directly to make a purchase is significantly shorter. While an email takes an average of 2-3 hours for a response, with chat, it's only a matter of seconds. The less time the marketing team spends on each prospect, the more time they'll have to extract data from other opportunities and convert them into customers. This ultimately increases the conversion rate.
Chat Marketing – Better User Experience
Helping a website visitor in real-time is a real game-changer when it comes to marketing. Chatting with website visitors from the moment they land on a page until the very last second to answer all of their questions can help leave an extraordinary impression. Helping them through a particular feature or guiding them regarding a product or service right there and then proves absolutely effective in shaping the customer experience. People often land on a website with the aim of exploration, and when they get proper assistance in doing so, they will likely turn into a lead.
Low Marketing Cost
Live chat is 17-30% cheaper than a phone call and more effective than any other B2B lead generation tool. B2B lead generation companies are moving towards chat as it is a cost-effective, modern way of reaching and engaging with multiple prospects in real-time. On calls, a sales representative can only engage with one prospect at a time, whereas chat offers the opportunity to multitask. Assisting several visitors at once helps significantly reduce operating and personnel costs.
Faster Means Of Communication
What is the biggest contributing element of superior customer experience? Prompt response time followed by good research and accurate information. Chat marketing enables teams to assist B2B leads much faster, which ultimately brings in more repeat customers. Quick sales decisions are ensured by chat marketing and let visitors engage with the sales teams and get direct solutions in real-time. Solving customer issues quickly via live chat using proactive communication saves a lot of valuable time for your company and potential lead. Using the chat marketing feature, you can stand above your competitors who either underestimate its power or don't feel the need for it in a technologically advanced digital framework.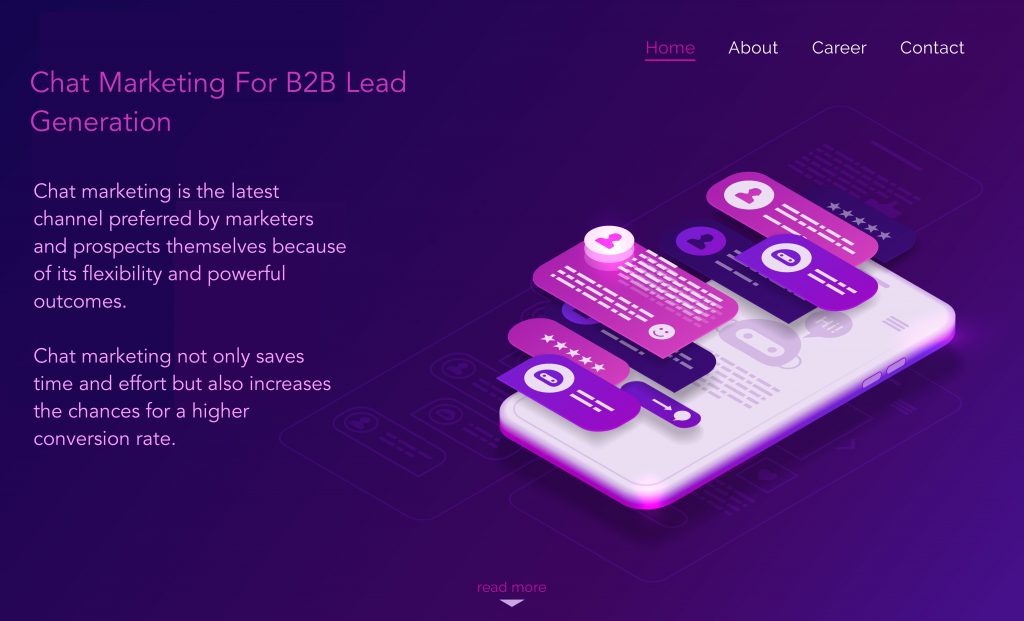 How To Get The Most Out Of Chat Marketing
Customize certain factors to ensure maximum outcomes for your B2B lead generation marketing campaign. A generic approach when it comes to chat marketing can do you more harm than good. Teams must be assigned to personalize the process for each visitor based on their journey, preferences, and experience.
Pay close attention to customer behavior
In this age of advanced digital marketing – every customer or prospect should have a personalized experience. The approach of an email template that is used to address hundreds of clients does not work anymore, especially when it comes to chat marketing. Trying to engage the wrong audience who doesn't show any interest in the product will simply be a waste of time. Only reach out to those who show signs of interest through their website journey and the time spent on a particular product page, etc. Use analytics tools, stats, and user engagement history to identify a prospect.
Manage your resources
Having an appropriate number of chat agents to engage with prospects is another important element in chat marketing. Limited agents struggling to keep up by having to assist multiple clients can end up in a catastrophic mess. There will always be a risk of factual errors or delayed responses; thus, managing your company resources, including chat agents, hardware, and software, plays a significant role in effective chat marketing for B2B lead generation.
Overcome language barriers
Globally scaling up the chat marketing proves effective, but it comes with multiple challenges as well. Enable software to segregate visitors based on their geographic location and have the chat pop up on an agent who is language efficient for that specific region. Communicating with customers or prospects in their local language offers a personalized experience.
B2B lead generation companies must also consider an around-the-clock chat feature to create a fluid dialogue with visiting prospects. This is so companies can be available during all time zones for chat marketing.
Chat Marketing – Powerful Integrations
Take this example – a prospect receives an email from a company with all the essential information they need. It landed in their inbox at the right time when they were actually looking for a service/product just like this. They find the information quite helpful and consider opting in for it. Wouldn't it be great if they could just click on a button within that email to initiate a chat? Having to open up the website and look for the chat option often takes quite some time. Chat marketing is all about converting a prospect in real-time and the right integrations help immensely in this regard. Leading marketers combine digital and email campaigns with a call to action that says "Click to chat" and takes a user to a live chat window.
Concluding Note – Chat Marketing
Chat marketing is the latest channel preferred by marketers and prospects themselves because of its flexibility and powerful outcomes. Marketing leaders are well aware that B2B prospects are more challenging to convert, and the cost is higher for the marketing process than B2C. Therefore, the extra time and effort need to be put in for the research and prospect engagement for chat marketing. Having the right information and tools at your disposal during such complex marketing activities can prove beneficial. Chat marketing saves time and effort and increases the chances for a higher conversion rate.
If you enjoyed this post about Chat Marketing, you'll find these articles useful:
Image source: Design vector created by upklyak – www.freepik.com, Technology photo created by syifa5610 – www.freepik.com