Website Visitor Tracking | How Can I Track Website Visitors?
What is website visitor tracking? Web tracking is collecting, storing, and sharing information about website visitors' activities on specific website or throughout the web. The goal of website visitor tracking is to gather more information about potential customers, their behavior, analyze their needs. Based on that website operators can improve conversion rates, create more targeted content, analyze the visitors and reach out to them via various channels.
Website Visitor Tracking chapters
Website visitor tracking is the tool revealing who your website visitors are and the visitor's behavior on your websites. Most companies use website visitor tracking for advertising purposes to measure the efficacy of their campaign strategies.
Running a website is a tricky business;  with all the technological advancements today,  you must stay ahead of your visitors' needs. To provide your customers with the best products and services, you need to be aware of their behavior. For that, tracking your website traffic is one of the best modern-day innovations available. It enables business owners, advertising agencies, and entrepreneurs to see in real-time what potential customers who are already on their website are spending most of their time on. What can be done to make them stay even longer, and what steps can be taken to increase conversion?
The data collected using website visitor tracking tools can be used to identify user behavior and amend campaign strategies accordingly. In other words, the outcome of any action taken digitally by your visitors can be used for your benefit to ensure effectiveness.
Website visitor tracking: FAQ
How can I track website visitors?
Website visitors can be tracked using various website visitor tracking software, like LeadRebel, Google Analytics, Hotjar, Matomo, Kissmetrics etc. Each of these tools provides possibility to see statistics about your website visitors. In addition, LeadRebel also shows you, which companies have visited your website.
Can you tell who visited your website?
When using tools like LeadRebel, you can see, which companies have visited your website, what they did on your website and gain some additional information about these companies. You can't see though, which persons exactly have visited your website. Though theoretically possible, it is incompatible with data privacy laws.
Can you see how many visitors a website gets?
Every major website visitor tracking software shows you, how many visitors your website had. Besides that, you can see a difference between amount of unique users and repeated visitors.
Do websites track your IP address?
Yes, website track your IP address. This is how internet works. There are some tools though, which can hide your IP address.
What is the best website tracker?
There are lots of great tools for website visitor tracking, like: Google Analytics, Matomo, LeadRebel, Hotjar, Kissmetrics etc. You can find below our suggestions for various use cases.
Importance of website visitor tracking
For the best customer experience, web analytics plays a significant role in understanding the user's journey. Understanding web analytics can help marketers and website owners improve their content, products, and services. Optimizing their web analytics will boost the overall conversion rate. There are multiple reasons why website owners opt-in for website visitor tracking:
●     To get more and more web traffic, figuring out and fixing all the issues that users may find unpleasant is a start. Issues may vary based on different industries: an e-commerce website might lack product information, the image quality or lead time could be why visitors leave the website. The reason why a visitor abandons the website can be pointed out using website tracking. The level of ease or hardship in checking out a product or payment method can also be a contributing factor.
●     Website owners use tracking tools to get an insight into the analytics. Being able to track users based on their age, gender or demographics can help strategists make better business decisions for the future. For example, tracking tools such as monitoring the competitor's keywords can show you which ones are doing better than the rest regarding generating most of the traffic or the backlinks. 
●     Tracking is considered most useful for advertising agencies. They use the data to develop the most appropriate ad campaigns based on the user's age, likes/dislikes, gender, and other factors. Helpful information such as user interest, history, location, etc., can significantly benefit. Also,  tracking can help monitor which aspects are doing better and which ones need to be tailored once the ad is live.
Website Visitor Tracking and Sales Funnel
All those points combined improve your conversion rates. As we mentioned in our previous articles (see key SaaS KPIs, website visitor identification, how we are using LeadRebel) one of main functions of LeadRebel is to reduce costs of B2B leads by increasing conversion rates throughout the sales funnel. The math is rather easy, If you spend 5000 USD for 50 leads per month and each leads costs you 100 USD, you can add another 10 leads per month via LeadRebel, for only 29 USD/month. So you increase you lead count by 20%, for only 0,6% increase in costs.
Now, you can use one tool, to increase/improve your results in one place in your sales funnel and get such great results. But you can also use several tools, which improve your conversion rates in other places throughout your sales funnel and get even better results.
Website visitor tracking software
Apart from Google Analytics,  many platforms offer real-time website tracking software to help make the customer experience better and generate maximum revenue. They can help you figure out the good and bad aspects of your website and identify which platform most of your traffic is coming from and how the visitors travel through your website. The user's consent is essential to begin the tracking process; otherwise, no tool in the world can show you live data on third-party sites. Tracking software can show you the most influential information about user behavior, analytics, and visitors' identity in the form of weekly or monthly reports. Depending on the software, some provide a general overview, and others can offer in-depth insight to boost your ROI. 
How does website visitor tracking software work
Suppose you're looking to track people visiting your website with all the supporting information about their age, location, gender, and interests. In that case, you will need software that's more than just an analytics platform. However, the question is how this tracking is executed and the tricky, complex yet advanced method that makes it all possible. Some might believe that we need to be tech-savvy to get the hang of this process. But, all you need is a basic understanding of technology. There are two main things involved in tracking, i.e., Script and rDNS (Reverse Domain Name System).
With rDNS, the tracker gets you the location of each visitor in real-time. In simple words, software tracking works just like looking up a phone number in an address book.
On the other hand, Script is installed on your website to get all the information about a visitor. The software then connects the dots to develop the history of a particular visitor. Moreover, some companies already use website visitors' data for marketing reasons, making it available to businesses such as advertising agencies. The whole process makes things easier when understanding user behavior and offering better products/services.
Syncing and storing the data
Many software offers visitor tracking in real-time, but there is no way to store the data automatically. Getting software also provides regular reports that could reference all future campaign strategies etc. Without any such feature, saving the complete information for future reference can be quite complex.
Some advanced visitor tracking tools integrated with CRM let you create a new organization section where all the data related to that particular company is saved unlimited time. It can be revisited and referred to while designing a new campaign strategy. Teams can be assigned to monitor the stats using the same CRM account for an effective outcome. This is one of the most foolproof ways of syncing and storing data extracted from website visitor tracking software.
GDPR and website visitor tracking
Getting insights into your website traffic via tracking sounds impressive and can adjust It is compliant protects It offers ut security concerns have grown. The visitor's sensitive information needs to be ensured by the data controller, who determines the purposes and how personal data is processed. This is why GDPR has been put in place.  
Explicit permission from the user is necessary as per GDPR before tracking and collecting information, regardless of the intention and purpose.
Is website visitor tracking software GDPR compliant?
€20 million or 4% of the company's total annual turnover could be fined if you don't follow the guidelines set by GDPR while tracking user information on your website. Honestly, no data gathered using tracking software is worth this much hassle. Hence, compliance with GDPR is the first step when moving towards website visitor tracking. Introduced in 2018, this body protects the identity of EU-based internet users by ensuring that companies collecting your information are transparent about it. Website visitor tracking tools should include having terms of use, privacy, and cookies policy that summarize how website visitors' data is gathered and for what intent.
As long as the tracking software follows the guidelines and is compliant with GDPR rules and regulations, the tracking is safe and secure. 
Popular visitor tracking software
Once you're all set with your website, the next step is to get software that provides you with insight into how your content is doing. What's attracting the audience, and what is not up to the mark? Which section of the website should be improved, and which part of the world is your website is most popular? All this information is decisive for enhanced customer satisfaction if gathered and used lawfully in compliance with GDPR. Let's take a deeper look at some of the leading website visitor tracking software based on the categories of what they mainly collect, i.e., analytics, visitor identity, and behavior.
Visitor identity tracking tools
Thanks to the modern innovation and constantly evolving digital world, there are a significant number of website tracking software that can be opted-in if you're looking to track your visitor's identity, such as their IP, demographics, contact information, etc.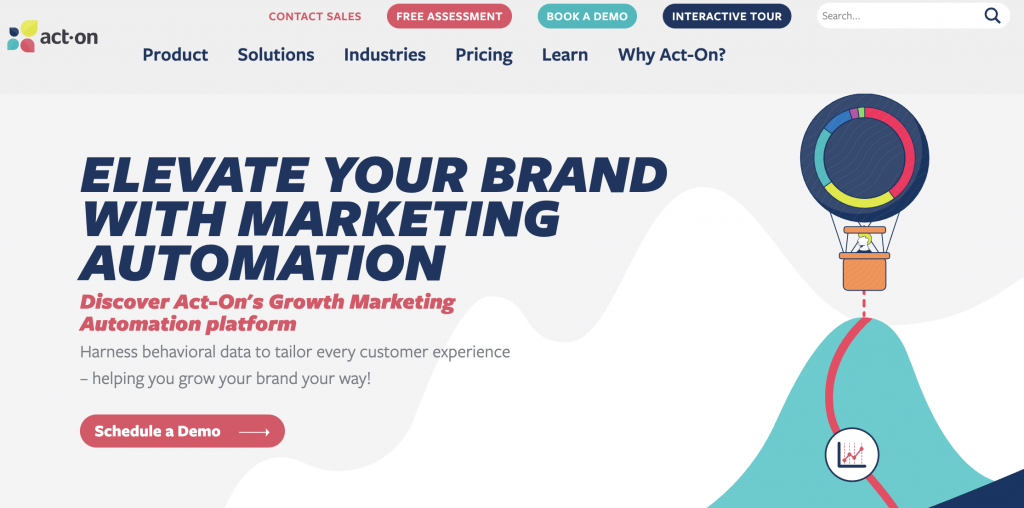 Not only does this growth automation platform offer detailed information on your visitor's identity, but it also ensures an enhanced customer journey based on these reports. The tool can integrate with multiple websites so that you can manage more than one account on a single platform. If you want to make the best use of your marketing efforts, this tool is the right pick for you.
Pricing
With professional and enterprise plans, you can enjoy advanced features at a minimum of $900 per month.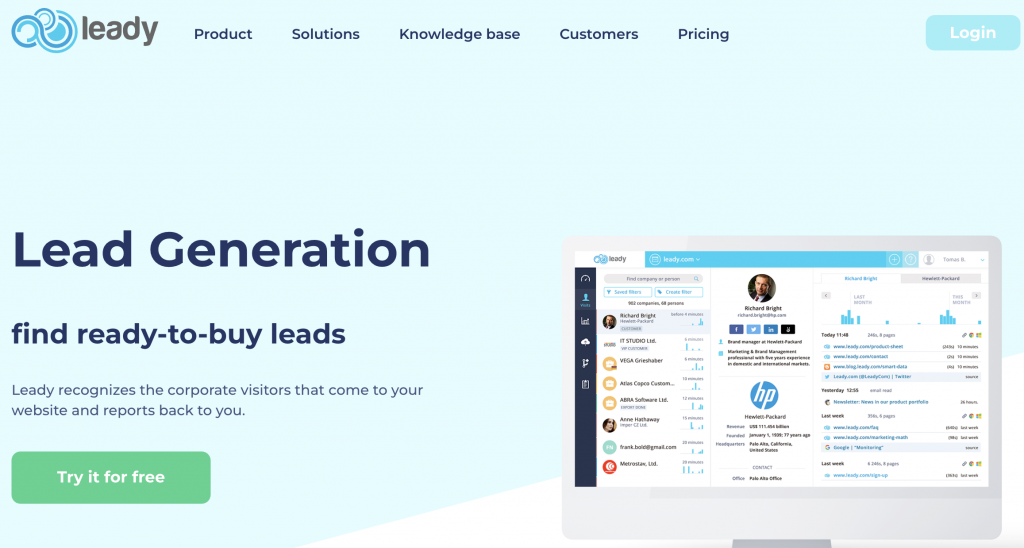 This is a lead generation tool that can provide you with an insight into every visitor's identity for marketing purposes; in compliance with GDPR, leady reports to you all the details about your corporate visitors. Apart from lead generation, leady offers assistance with SaaS and multiple integrations.  
Pricing
With a 14-day free trial, leady offers multiple plans based on your business requirements.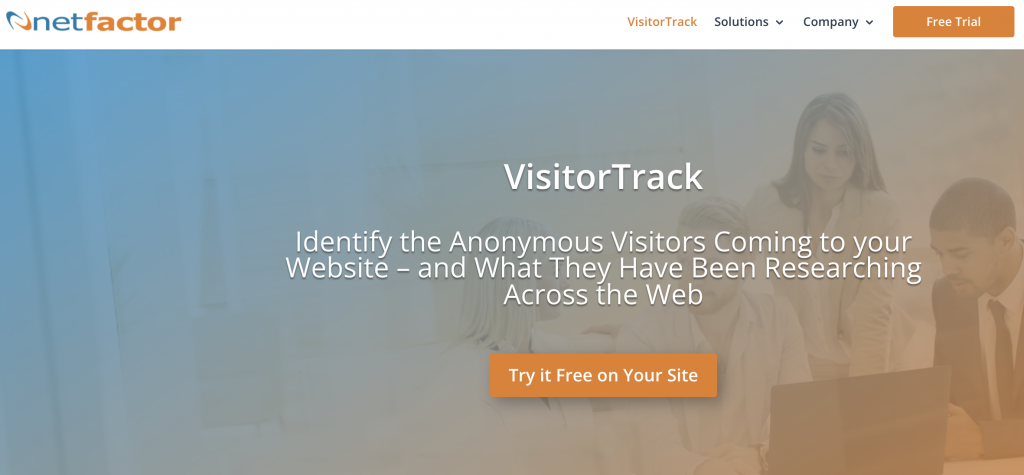 Wouldn't it be fantastic if you knew the details about your website visitors that you can use in the future to figure out their preferences to promote a marketing campaign? This tool provides you with that opportunity. It tells you what your visitors are looking for across the web.
Pricing
If you're ready to give it a try, sign up for a free trial period to explore its features. Once you're sure about the tool, get in touch with the team to get a quote.

LeadRebel is a SaaS startup based in Switzerland and Germany. It provides a software for B2B lead generation. LeadRebel software analyzes website's visitors, shows, which companies have visited the website, identifies respective contact persons and their contact information. Our innovative solution is simplifying and automatizing lead generation process.
Pricing
14 days for a free trial, after that €29 per month. 
Analytics tools
To keep track of your web analytics, there are several tools that you can rely on. One can learn so much from a traditional website tracking tool to use the data for more conversion and ROI eventually.

Google Analytics is one of the most commonly used tools for basic and advanced level analytics tracking. This tool can help track the numbers of potential customers that click on a particular campaign for ad campaigns. It offers segmentation of demographics and the devices from which your website is visited, and whether they are returning visitors or just landed on your website for the first time.
Pricing
It is a free tool with all the essential features; however, the pricing may vary depending on your business requirements if you're looking for customization.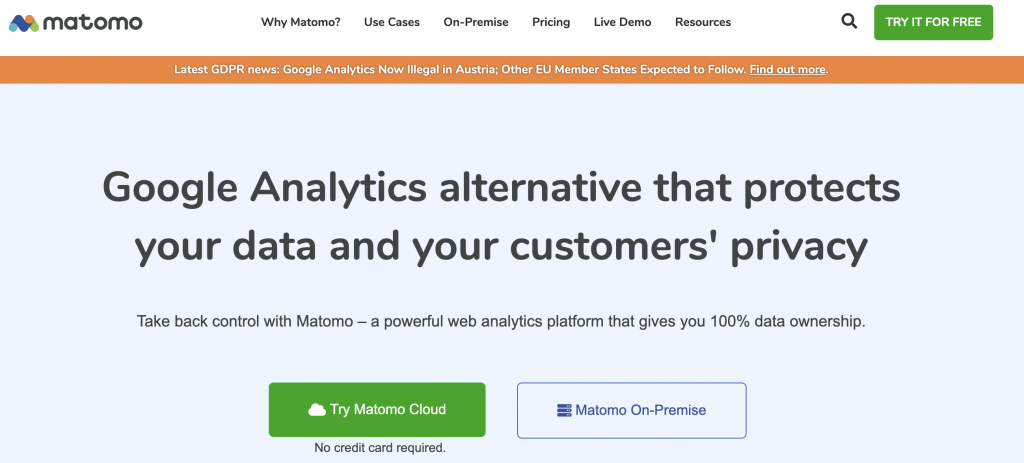 Matomo is the best alternative to Google Analytics. Not only does it offer all the powerful features, but it also ensures the safety and protection of your visitor's data. In compliance with all the laws and regulations of DGPR and CCPA, this tool offers complete control over your data. It is capable of adjusting to your business needs by customization as well.
Pricing
You can try the tool for free and try some of the features it offers. For a pricing quote, get in touch with the team.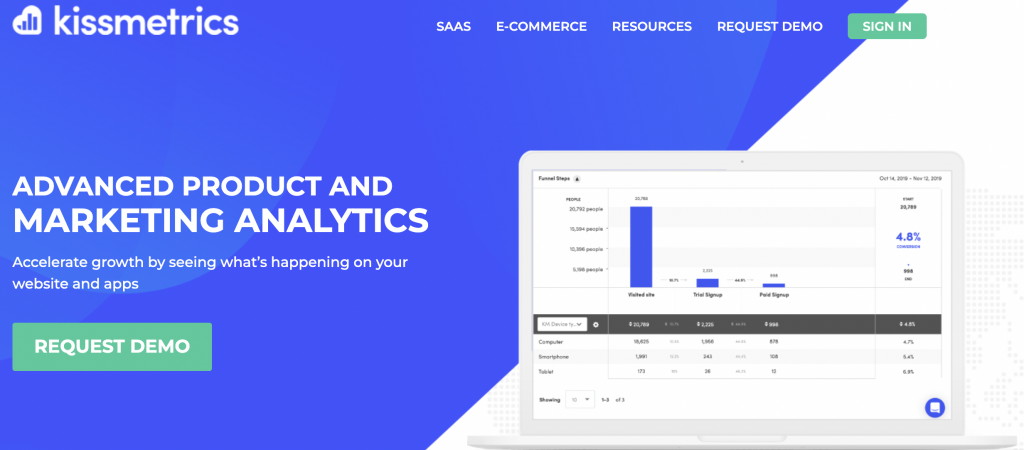 What sets this tool apart from the rest of the software is built specifically for eCommerce and SaaS businesses. Using this tool, you can track a user's journey and make necessary improvements based on the weekly/monthly tracking reports. If you're running multiple websites for a medium to large level business, this tool is the right choice for your analytics tracking needs.
Pricing
You can request a demo based on your SaaS or e-commerce business needs and get a pricing quote as well.
Behavior Tracking Tools
Understanding your website visitors' behavior is the key to improving your content. Using a tool that explicitly tracks user behavior is the right approach when you're trying to figure out what the users are looking for on your website or which content elements they are spending most of their time on. Website clicks, bounce rates, and scroll times show a complete picture of each unique experience.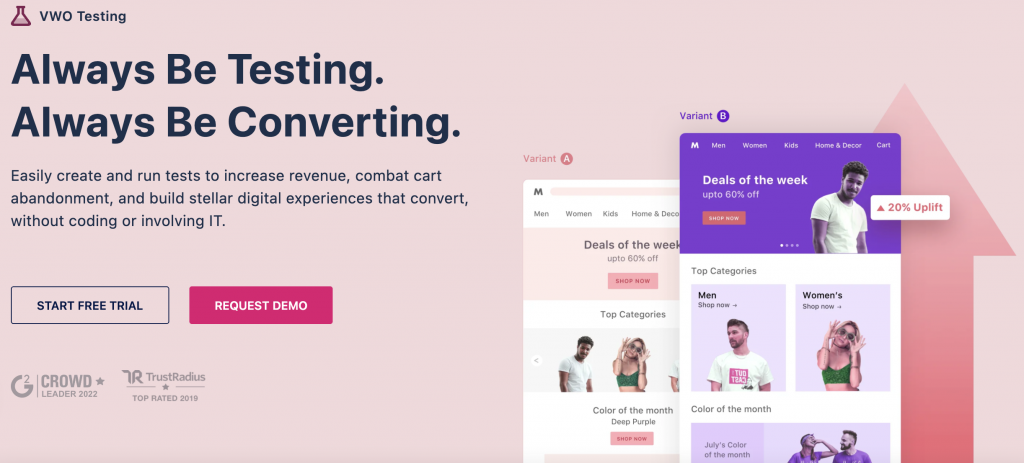 As the tagline says, "Fast-growing companies use VWO for their A/B testing" and do so with the maximum productive outcome at a low rate. VWO lets users enjoy features such as conversion funnels, on-page surveys, and session recordings. It is an enterprise solution, more suitable for larger organizations with multiple websites that simultaneously need tracking.
Pricing
As far as the pricing for this enterprise tracking tool is concerned, there are three plans that you can pick from; Growth, Pro, and Enterprise. A 21-day free trial is also available.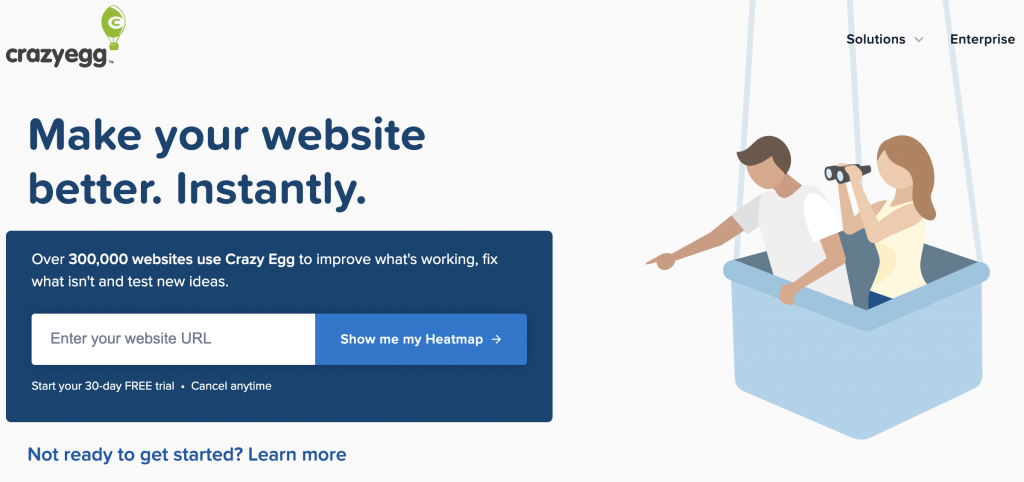 This is the kind of tool that helps you get a deep insight into your visitor's behavior in an affordable manner. Usually, advanced tools with valuable features are costly, which is not suitable for many small or medium-level businesses. Crazy egg helps the website owner better understand the visitor behavior that drives other website metrics.
This tool helps track user behavior by using heatmaps, confetti reports, list reports, and scroll maps.
Pricing
With some valuable features and multiple options for the plans, they offer a 30-day free trial, so you can explore the tool and make better decisions.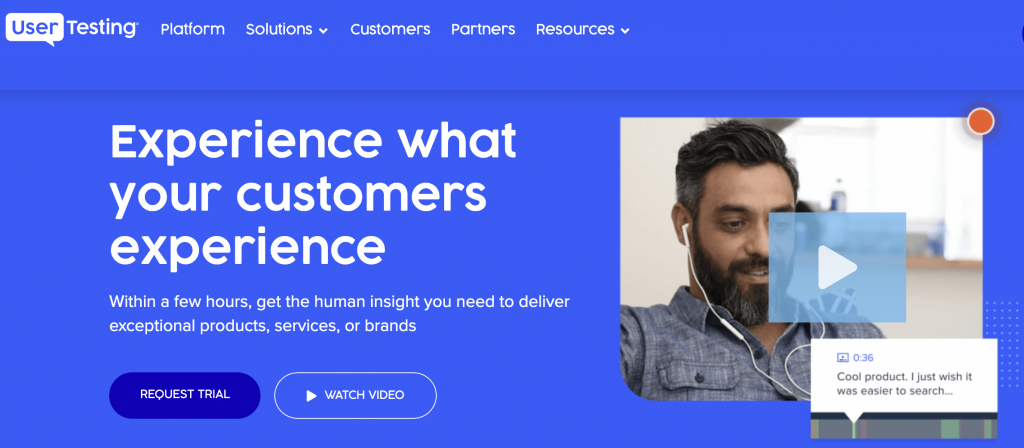 UserTesting is known for its customer experience features. It is designed to help small, medium, or large businesses create and launch their products and capture more context about your customer by getting the insights more quickly with visualizations, transcripts, metrics, and analysis. 
It is presented in the form of monthly or weekly reports, which can then be used for marketing campaigns in the future.
The UserTesting "human insight platform" aims to complete the "empathy gap" and allow businesses to show their customer-centric approach by helping to fix the website's UX problems. UserTesting connects website owners with their actual audience for effective qualitative web analytics tracking and provides a comprehensive insight. UserTesting offers a testing panel with an integrated user database to allow businesses to target a specific audience using filters such as demographics and other custom criteria. 
Pricing
With three plans, i.e., Essentials, Advanced, and Ultimate, you can pick the one that's best suited to your business needs. Get in touch with the team for a quote.
Website visitor tracking: Conclusion
Without a doubt, website visitor tracking software provides colossal assistance in identifying customer satisfaction opportunities. However, go for tailored tracking tools best suited for your business needs. Whether you run a single website or manage multiple accounts within a large-level organization, getting the right tool is highly recommended.
If you enjoyed this post about Website visitor tracking, you'll find these articles useful: