Generate Free B2B Leads: Four Ways to Get Free B2B Leads
Intro: of money and time
The LeadRebel story began in 2019. At that time, we received a seed investment and were able to develop our product. We also put the money into many different marketing and sales channels. It was a trial-and-error strategy and boy did we make a lot of errors. There was a PR campaign that didn't work. We tried three Google Ads agencies. We hired and fired salespeople. But at the same time, we took the first right steps that later boosted our growth. In doing so, we discovered some sources for free B2B leads.
In the first two years of our existence, we successfully burned the seed capital 😊 and have had to "bootstrap", means finance our growth with our revenue. And that completely changed the way we approach lead generation. Instead of buying the leads (e. g. via performance marketing), we must literally generate, create, find the leads. The small budget has made us disciplined and inventive.
It is important to understand that there are generally no free leads. You pay either with money or with time. We used to pay money for our leads, now we pay with our time.
In this article, I'm sharing our know-how with you, not for self-adulation (a little that too), but mostly in the hope that some of these strategies will lead you to our sign-up page and all the budget you save elsewhere flows to us 😉.
Long story short: Here is our strategy for (almost) free B2B lead generation.
Not all leads are equal
In this article we write about "warm" or "quasi warm" leads! These are not to be confused with "cold" leads, where you only buy or procure the addresses. In this article, leads mean real prospective buyers or at least those who are highly likely to be interested in your services or products.
Generate free B2B leads with free traffic
By free traffic we mean traffic generated through search engine optimization and content marketing. There are two age-old but often overlooked tactics for generating outreach. I intentionally mentioned content marketing and SEO together. Without content, link building makes no sense and without links, content stays somewhere in the morgue of Google search.
For us, Google Ads is the second largest cost driver after salaries. Right from the start we invested quite a lot of money in Google Ads, and that was right at first because we didn't have any other traffic. The ads campaigns are still running but are playing a smaller and smaller role – and "free" traffic a bigger and bigger one!
Most of our competitors invest heavily in Google Ads and other paid marketing channels, while we laboriously, step by step, improve our positioning in Google (and other search engines). And the result can be seen.
These are the impressions from our website in the last 16 months:

And this is the actual organic traffic since 2020:

We have marked the periods when, for various reasons, we did not engage in active content marketing and SEO.
We currently pay almost nothing for SEO and content marketing. We invest time in content and link building. Most of our leads now come from SEO and content marketing. Many leads come from countries where no marketing campaigns have been run at all.
The average Google positions of our top 10 keywords have improved from 12 at the end of 2021 to 3.6 as of November 2022. That means, on average, each of our top keywords is in the top 5 of Google results.
Free B2B leads through SEO and content marketing: our recommendations
We (and numerous other websites) have written a lot about search engine optimization and content marketing. You can find some suggestions here:
5 Simple SEO Techniques for Local Businesses
SEO And SEM | B2B Search Marketing or SEO For B2B Companies
B2B Marketing Trends You Can Count on 2022
Instead of explaining the basics, I'll give you a few tips here:
Content needs to be written regularly. Search engines love fresh content.
Consciously write list articles, like, "10 best this…", "20 helpful that…". Even if it's not always particularly informative. Such articles attract SEO staff from those companies who would like to be part of this list. In return, you get a backlink from their website, and you don't have to do anything for it. So, a kind of inbound link building strategy.
Use freelance platforms for low-cost copywriters and translators.
You can build links manually (recommended) or buy them cheaply (but please be very careful and in small quantities, because the search engines are not stupid).
Update your old articles and add new pieces of text.
Don't stop! Otherwise, your organic traffic will start to drop after 2 months at the latest.
Free B2B leads through SEO and content marketing: the bottom line
Search engine optimization is suitable as a medium and long-term strategy for lead generation. You need time and patience here and often almost no money. After the start of the activities, at least 3 months will pass before the first results can be seen. But then it goes uphill quickly – unless you stop producing content and setting links.
The cost of leads coming from SEO can vary greatly depending on whether you do the SEO and content yourself or outsource it. If you have the time and know-how to create good content and build the backlinks, then the leads that come this way cost nothing (or only your time).
Cheap B2B leads through email marketing
Email marketing is not part of our standard repertoire. Admittedly, we tried it on a small scale and the results were interesting, but legally it is a gray area. So, everyone should decide for themselves whether this method is suitable for inexpensive B2B lead generation.
For a long time, we thought that e-mail marketing was useless. But we were wrong. Even on the small scale that we've been running our campaigns on, we've found that this lead generation technique consistently delivers good leads.
There are countless tools for email marketing, we have already listed them. Many of these tools do not allow cold mailing at all, the most well-known example being Mailchimp. They not only delete the campaigns, even the entire accounts if they catch someone cold mailing. However, there are tools that have established themselves in the niche for cold mailing.
Email marketing: our approach
We used apollo.io ourselves. The tool costs $19 per month per person. We had one user account (so it stayed at 19 euros per month). The software enables a global search for suitable companies and contacts. There are tens of millions of entries – a real gold mine for B2B salespeople.
To make life difficult for the users and drive them into the higher subscriptions (these are then significantly more expensive than 19 euros/month 12), there is a nasty and notorious limitation in the industry: the selection option is limited to 25 entries per list (i.e., 25 companies or individuals). It all goes like this:
You want to create a new email campaign.
First, you need an email list.
So you go to Apollo.io and look for appropriate contacts: e.g., country: Germany, industry: marketing, size: between 20 and 100 employees, position of the contact person: managing director, etc. There are many criteria, and the target group can be specified very precisely.
Suppose you are now presented with a list of 3000 people whom you would like to write to.
And now comes the limitation: you can only select 25 people at a time and add them to the mailing campaign (at Apollo they call it sequences). Mean, right? 😊
3000 divided by 25 = 120, so you need to check 120 times on the selection and add the selection of the sequences.
But we are stingy and have time! So that's exactly what we do. After half an hour you're done, and you have a nice mailing list.
The rest belongs to the formalities: how best to set up email marketing campaigns, how to message people, etc.
Cost per lead in email marketing
Lead prices that come this way tend to zero. In our test, around 0.5% of all those addressed became interested parties, i.e., leads. So, let's calculate:
5,000 addresses per month
0.5% conversion rate
The cost of apollo is 19 euros
Workload approx. 3-4 hours per month
19 euros divided by 25 are 0.76 euros per warm lead!
With Google Ads, how much do you currently pay per lead? Exactly …. With ads, we pay a hundred times of that per lead.
This calculation applies at least to our industry. Of course, if you build reactors for nuclear power plants, then you get different numbers 😊.
All in all, email marketing is an old, much hated, legally dubious lead generation strategy that still works amazingly well and generates cheap B2B leads.
Inexpensive B2B leads through website visitor recognition
Website visitor recognition technology and solutions have been around for many years. Strangely enough, there are still many marketing professionals who have never heard of this possibility. If you are one of them, you are now enlightened. Yes, you can and are allowed to see which companies have visited your website. And yes, it is very helpful for your marketing and sales teams.
There are four types of marketers who are new to website visitor detection:
The already mentioned ignorant ones (from now on ignorance is no longer an excuse)
The GDPR fanatics; Without understanding what the GDPR regulates or prohibits, this group is generally against anything to do with data or tracking. Exception (what a paradox): Google Analytics. This tool continues to be used diligently.
Those who cannot pay 29 euros per month.
The ones who "want to but can't" because they don't have traffic.
There is another bonus group: those who want to recreate the tool themselves. What can go wrong here…
Everyone else should already be familiar with the wonderful lead multiplication engine called Leadrebel (as well as other website visitor detection tools).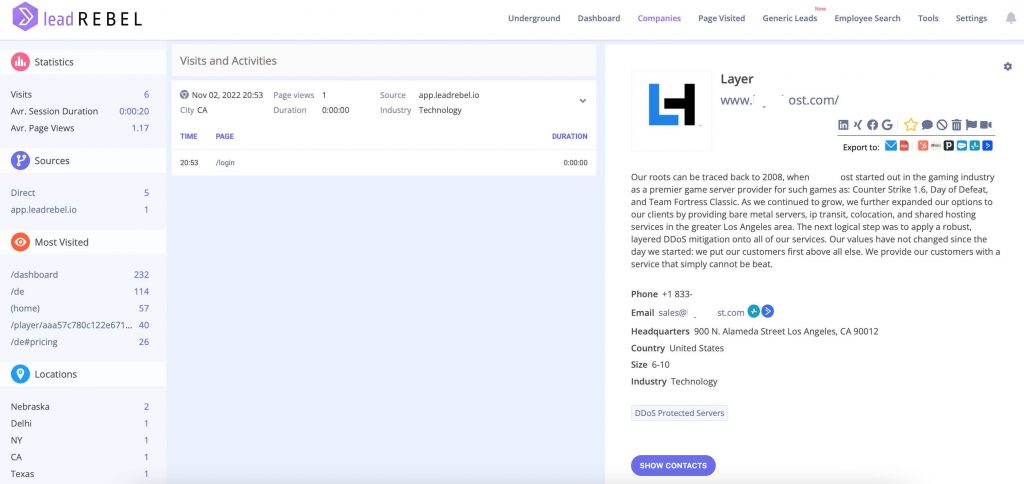 Benefits of Website Visitor Identification
The above techniques, especially search engine optimization, have provided you with reach and traffic, and in some cases free B2B leads. The website visitor recognition builds on this. Now you can see who actually visited your website after all your efforts and act accordingly. Here is a brief overview of how you can use LeadRebel to generate cheap B2B leads:
You can see which companies have visited your website
You will see the corresponding contact details of these companies
You can use an employee search function to find the relevant contact persons in the respective company
You can export the leads to any CRM and marketing tool
From here the sales start. You probably know the best way to engage with leads, and a lot has been written about it on our blog as well.
Website visitor identification cost per lead
The lead costs are also in the cent range here. In the standard package of LeadRebel (89 euros per month) you receive up to 900 potential leads per month. Let's say only 300 leads are recognized and classified as eligible. If you divide 89 euros per month by 300, you get about 30 cents per lead. That means:
You pay 30 cents per interested company, i.e., for a lead including all company information and the references to it, including which product or service the company is interested in. In addition, these 30 cents (just an example, it can be less) also contain information about potential contacts.
The workload on your part when using LeadRebel is mainly in the analysis of daily visitors and the selection of interesting companies. This can take a few minutes to an hour a day.
Free B2B leads through partnerships
The fourth and potentially most important way to get free leads is by partnering with other companies. For us, this technique is one of the most important drivers of leads, although we still have a lot to learn here.
The importance of partnership is self-explanatory: a partner company sells your product and gets something in return. Often it is about the commission. But there are other reasons too. such as for example, many of our partners work as SaaS consultants in the B2B sector and would like to offer their own customers better SaaS products. And this is where we come in. For many, the commission is irrelevant.
What to look out for in partnerships
By building a large partner network, you can generate an additional channel for free B2B leads. However, there are certain points you should pay attention to:
Partner search and onboarding is time consuming.
This is almost a separate business area, in which you either invest a lot of time yourself or must designate employees for it.
In return, leads can be generated quickly in this way. Unlike SEO, you don't have to wait for your actions to take effect. Sometimes it is enough to find a big partner and the new customers come.
The more partners, the less time for each individual partner. Partner support plays an important role and that takes time. If you have too many partners and you cannot look after each one individually, this can lead to the low quality of the partner-network.
The partners tend to "fall asleep", i. H. At first, they are hooked, but over time interest has waned, especially when all the partner company's customers are already provided with your solution.
The leads that come from this pipeline are only free before acquisition. A commission bill follows, and this can account for a good chunk of your margin.
The leads from the partnership pipeline are less reliable than from other pipelines. It could be 20 leads one month, 5 the next. It's hard to control the number.
Generating Free B2B Leads: Conclusion
B2B leads don't always have to cost money. There are many ways to get free B2B leads. I have listed four of them in this article. But there are many more options! But as everywhere, the same applies here: You either pay with money or with your time!
Image source: https://www.deutsche-startups.de/2020/02/12/tipps-leads-kaeufer/