Email Marketing Campaign: 13 Hot Insider Tips
How effective is your email marketing campaign right now? Email marketing is perfect for marketing purposes. You can personalize your texts and develop working templates for your product.
In case your emails marketing campaign already deliver top results, continue browsing. If there's still room for improvement, the following list of 13 simple hacks will help you achieve a noticeably higher turnover.   Collect as many email addresses as possible
What is an email marketing campaign?
An email marketing campaign is a set of emails companies use for delivering specific marketing purposes. Email marketing campaign's primary goal is to communicate with potential or current customers.
Email Campaign Tips:
1.     Tip: Collect as many email addresses as possible
In 2018, Monetate published a report showing that a new customer needs an average of three and a half sessions over 25 days to make a final buying decision and to close the sale.
There is no better foundation for email marketing campaigns. The average opening rate is between 4 and 14 %. If you compare this with retargeting ads, its value is at merely 0.51 %. 
This is reason enough to collect email addresses. Below are 12 ways to get email addresses with relatively little effort.
Collect email addresses with Facebook ads.
Write a top lead magnet.
Use pop-up forms in different places on your website.
Directly ask for it at trade fairs, events, etc. 
Share links on social media: use powerful images and snippets.
Create great content – always.
Ask people to forward your emails.
Add a link to a registration form in your standard email signature.
Host live video events and utilize your forms.
Post content to a platform such as YouTube or Pinterest and link it back to your website.
Optimize your forms and opt-ins: split-test to find out what works best.
Connect with other experts in your industry and share leads.
2.     Email Marketing Campaign Tip: Automatically unsubscribe inactive customers
This hack is awesome. It's much better to proactively unsubscribe uninterested users than ending up in a junk folder all the time. Internet service providers, spam monitors and email security services set thresholds for acceptable email marketing campaigns.
Spamming complaints, undelivered messages, and un-subscriptions must have low thresholds. Otherwise, these services will become aware of you, and that's not good. This may lead to account restrictions and quite gloomy marketing prospects.
Use an automated software tool that cleans up your email subscriber list. Alternatively, you can ask inactive users to log out (which they probably won't do because they don't read your email). 
3.     Tip: Copy the tricks of the best copywriters
So, you craft your e-mail in painstaking detail. However, as you read it, you almost fall asleep. If you already feel that way, how will your readers respond to your email marketing campaign?
The success of an email campaign depends on the 50:30:20-rule. In detail, these are three factors:
50 % depend on market demand 
30 % on the offer
20% on your text
The 50:30:20-rule is the reason why you should at least familiarize yourself with the basics of copywriting – or hire a good copywriter. 
4.    Email Marketing Campaign Tip: Focus on a single key message
Writing an efficient email means striking the sweet spot between information and offer. However, many email marketing campaign messages are not focused enough and, therefore, do not have a clear key message. 
We tend to inform our customers about too many things at once. As a result, the customer does not absorb any of the messages created with great effort.
That's the way to go: 
Compose an email with one key message
Append a clear call to action
The customer tends to understand the messages of such emails quicker and is more likely to act on a clear call to action.
5.     Tip: Write the crispest subject line you can think of
The outcome of your email campaign depends on the subject line.
The use of personal address and emojis are very powerful in some cases. However, it all depends on the nature of your business and your target audience.
Here are some more (proven) ideas for a successful subject line:
Interesting statistics
Little-known facts
Jokes and wordplays (tailored to the target audience)
Announcements 
Discounts
Prompts ("Register now", "Join in", "Confirm now", etc.)
Deadlines and FOMO 
Short and crisp 
6.     Email Marketing Campaign Tip: Create limited offers
Social media has got the FOMO principle ("the fear of missing something") going. The idea behind it is simple, and you can use it effectively to improve your email marketing campaigns: 
Create temporary offers: "only X-pieces available for X hours."
Use Countdown
At best, the recipients will take action immediately. This can increase your turnover noticeably. The likelihood that an email will generate sales decreases significantly as soon as the customer clicks away.
7.     Tip: Segment your email lists
Thanks to segmentation, you only send emails that correspond to the current circumstances of the individual groups. Only those who are interested in an offer, will buy it. This is why segmentation is so important.
You can segment by nearly any conceivable attribute:
By simple factors, such as location, age, or gender.
By more complex factors, such as previous purchases, content that someone has interacted with, and pages that the customer has already visited.
After that, you can create personalized sequences.
Below are four stepsto follow when segmenting customers and creating automated email campaigns to make them a success:  
The more data you have, the better you can segment.
Collect as much customer data as possible and save it as customer profiles. With most email marketing campaigns and CRM tools you can capture customer data in this way. Use this function and utilize data on location, channel, average order value, and actions (products searched for, features used, etc.).
Automatically locate your customers based on their IP address. Ask for basic demographic information and ask relevant questions such as "Do you want to buy a present?" 
Cross-segment test offers.  With modern email marketing software, you can track and trace every single action of your customers. 
Review the types of discounts and promotions you currently offer customers (free shipping, 10 % discount, 20 % discount, etc.) and send different rebates to each segment. Use A/B/C testing of each offer by segment to determine which combination works best.
Review your results frequently and implement necessary adjustments to make your current email marketing campaigns more profitable.
Take a look at your conversion and yield statistics. Customize your campaigns so that each segment gets the best email content at the right time.
Run your optimized campaigns to extend the customer's "lifetime" and see more orders coming in. 
8.     Email Marketing Campaign Tip: Use upselling
You probably already know that it is more profitable to work on existing customers than to generate new ones. On average, 40 % of the turnover of an e-commerce business comes from 8 % of the customers. 
How about you: Do you get the most out of your 8 %? 
Many companies focus far too much on customer acquisition rather than customer retention and upselling.
This is where email marketing comes in.
You can use the previously discussed email sequencing for many purposes. However, they are particularly useful for upselling. 
You can segment your customers by average expenditure or products already purchased (this is permitted: see GDPR principles). 
Send emails that show customers the benefits of switching to a higher-price plan or buying a product XYZ.
9.    Email Marketing Campaign Tip: Retargeting
Stop guessing about what your customers want and rely on data. Retargeting for advertising networks makes much sense because you can create more efficient email marketing campaigns. 
The idea is that you pursue specific interests and reinforce click decisions with relevant retargeting advertising. 
You can track what your email subscribers click on. Next, you should design and send ads based on this data. 
You can also track the behavior of registered web users on your site and send emails based on that information.  
For instance:
A customer receives a newsletter about "shirts and shoes." The subscriber then clicks on "shoes" because he likes some particularly well.
Automatically, the program moves him into the "shoe specific email list" and triggers the retargeting display "shoes."
The next email will show the subscriber a selection of shoe types. He can choose between "casual footwear and dress shoes."
When the subscriber clicks on dress shoes, we move him to the "dress shoes" list, and so on. These behavioral emails make the subtle difference whether a customer is buying from you or a competitor.
10.  Email Marketing Campaign Tip: HTML Forms
Amazon and Google are leading the way: HTML forms for reviews are a great way to encourage engagement and trigger specific actions. 
Customers like this type of email because it makes their lives easier and helps them do some of the work. An example: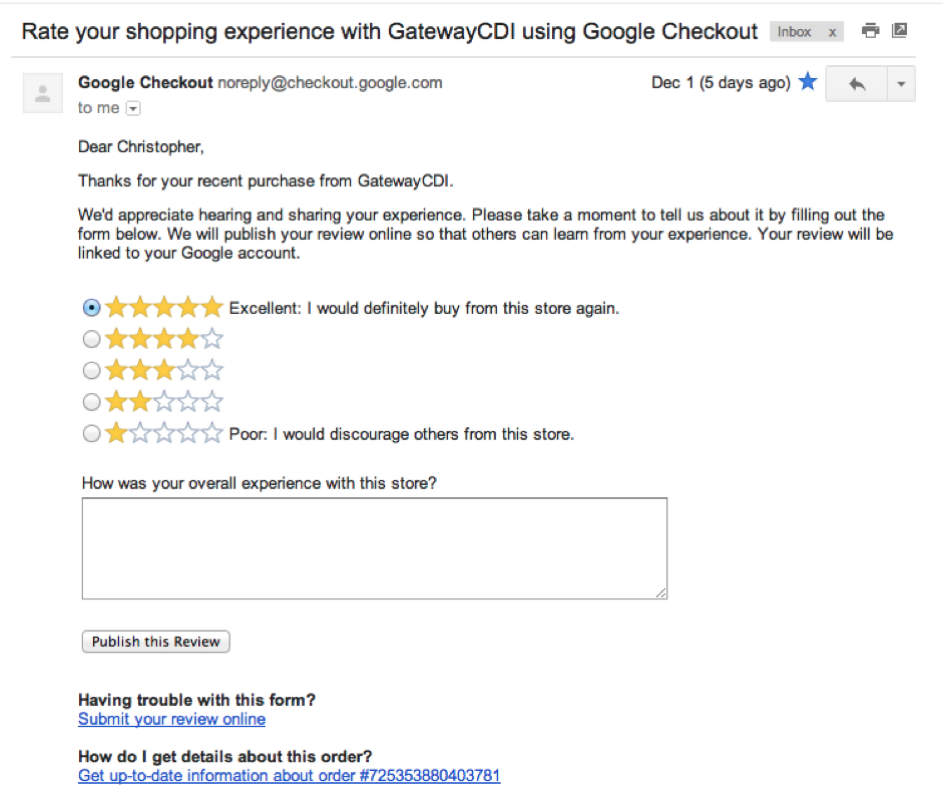 (Click here for the picture and the report)
HTML forms in email text are not used so often yet, probably because not every email client displays this type correctly. However, it is an excellent way to generate feedback. We think this tip is worth testing. 
Tip 11, 12 and 13: Three quick tips at the end
Even if you only implement the following three tips from this article, you will notice it in your click rates as well as in your sales. 
Tip 11: Utilize your email signature 
Forgot your signature for all the email texts? You're in good company. When you create a creative signature and insert backlinks to your website, you generate free traffic. 
Adding a WhatsApp number or other contact information may lead customers to contact you. 
Tip 12: Don't forget the footer
Create a glorious ending! List benefits, add references, support contacts, quality seals, and social proofs. For example, Buffer always posts in the footer how many newsletter subscribers they currently have. 
Tip 13: Include affiliate codes with your bills 
Here, you add a voucher code to your invoice, which can only be redeemed on your website. If, for example, you have already granted a discount of €10, you can now offer the customer an exclusive €8 voucher, which the customer can use for new products. 
Email Marketing Case Study: This Is Paul  
What are the elements that make a successful email marketing campaign? Here is a case study about Paul.
This is Paul. 
Paul is a dog trainer. He has developed an online course that he now wants to market via email. He sends 20 emails a day. So far, he has sent more than 400 emails – but no one has replied or bought the course.
His first email reads like this: 
"Subject: Buy my dog training online course
Dear customer, 
I have developed a dog training course. 
You can buy the course here. 
It costs €395. 
The course teaches you how to train your dog correctly.
If you buy the course, I'll be there to support you along the way.
I hope you will invest in the course – your dog will thank you for it. 
Thanks
Best regards,
Paul"
Unfortunately, Paul doesn't know anything about email marketing and didn't inform himself about the principles of a successful email marketing campaign nor about current advertising laws. 
Paul can do a lot better by following our tips for better email marketing. 
Case Study: That's the way it goes, Paul 
Paul has read our report and implemented the tips. He has learned that he must add value to potential customers and get them to take action. 
Now, the first email from his email marketing campaign looks like this: 
"Subject: 10 FREE dog training tips to train your dog in 2 days 
Hey (first name), 
I found a gentle way for your dog to obey you within two days. 
Within two days, your dog will do exactly what you want him to do. 
I have created a PDF document with these tips that will be available for free download within the next 12 hours. 
Get your copy now. 
It costs you €0 and guarantees 100 % success. 
Paul"
(Underneath, Paul has created a beautiful signature which links to his website and gives him free traffic).
Also, Paul has built a funnel with a form that allows him to collect new customers or group existing ones.  
Thanks to a well-written thank-you email, Paul makes use of further potentials.
Summary of the article: Paul did the right thing 
Paul only sent the email to customers who wanted to receive his email.
Interested customers get moved to the sales funnel.
Customers who are not interested automatically unsubscribe from his program.
He just put a short, clear message in his email.
The subject line arouses curiosity. 
He limited the offer in time. 
It creates the foundation for upselling.
He's using the footer to generate traffic. 
If you want to share your tips with us, we are looking forward to your comments.
Other articles that may be of interest to you:
If you've wondered how much a lead costs on average in your industry, read the article about the cost of acquiring new customers.
Privacy is essential when it comes to email marketing. Please read this article about GDPR and its impact on marketing and sales.
Picture Source: https://www.publicdomainpictures.net/en/view-image.php?image=282221icture=email-marketing