B2B Marketing Trends You Can Count on 2022
2022 is just around the corner. It provides the ideal opportunity to optimize your marketing strategy to achieve the best results. In the coming minutes, read about some of the most important developments and consider how you can incorporate these B2B marketing trends into your strategy mix. It will enable thoughtful planning for the year to come.
Knowing how these trends can impact your marketing activities makes it easier to see where your business is headed and how to navigate it safely to its goals.
Preparation Phase for B2B Trends 2022: Optimizing the Sales Funnel
First things first: From 2022, the decision-makers in B2B companies will be the Millennials. They now account for half of all B2B buyers.
Before you optimize your 2022 strategy, you should understand the behavior of these future B2B customers. You should think about these trends on a broader business scale and offer interaction between different channels.
During the past decade, the B2B purchasing process has undergone massive changes:
B2B shoppers today perform on average 12 online searches before they engage with a particular brand and its website.
They expect the same shopping experience for B2B products and services as if they were making a B2C purchase, even though, the process differs significantly.
According to Hubspot's State of Inbound Report, inbound marketing will increase. 53 % of all marketers achieve a higher ROI thanks to inbound than with comparable measures.
In 2022, the B2B marketer's challenge will be to offer customers an even smoother process in the sales funnel – not only to attract the decision makers' attention but also to provide them with a buyer journey making a lasting impression and encourages buying again and again.
B2B Marketing Trends 2022
Marketing Trend 2022 No. 1: Personalized Communication Is Key
B2B decision-makers are fully aware of the many options available to them when making buying decisions. Salesforce reports that 72 % of all business customers expect personalized, tailored communications. Therefore, many such buyers do not shy away from switching to another supplier if they believe that they will be better served there.
Effective personalization addresses the characteristics of the target group and each user's preferences. This is a highly effective way to increase sales, learn more about the target market, and grow the customer base.
Personalization enables a customer to present himself as a valuable and valuable partner. 
You can align your entire B2B marketing strategy to this approach in 2022.
Do you think that's too much trouble for your team? Don't worry: Several readily available technologies and software tools simplify personalization, such as marketing automation programs. They create personalized messages and content for your audience almost by themselves.
B2B Marketing Trend 2022 No. 2: Content Marketing Is Key to Lead Generation
According to the Content Marketing Institute (CMI), 91 % of B2B marketers use content and inbound marketing to reach customers and convert traffic into B2B leads.
In 2022, the trend toward videos and high-quality written content will continue. Today, the majority of people consume content in video format. According to the State of Inbound Report, video channels will be even more in demand next year.
70 % of all B2B buyers and decision-makers watch relevant videos during their buyer journeys.
A growing number of marketers are noticing this trend: 45 % are planning (more) YouTube videos for 2022; 41 % want to place and run Facebook videos regularly.
However, you better do not neglect the power of written digital content. In-depth content (over 1000 words) is considered the B2B marketing trends 2022.
Readers show more interest in the content that provides valuable insights into a particular topic.
White papers can be a particularly useful format for long-form content, as approximately 79 % of B2B buyers share white papers with their peers.
Tip: Avoid lengthy introductions and filling content in your writing.
Content formats are generally evolving. This chart, the Content Marketing Institute shows how B2B content marketing has changed from 2017 to 2018: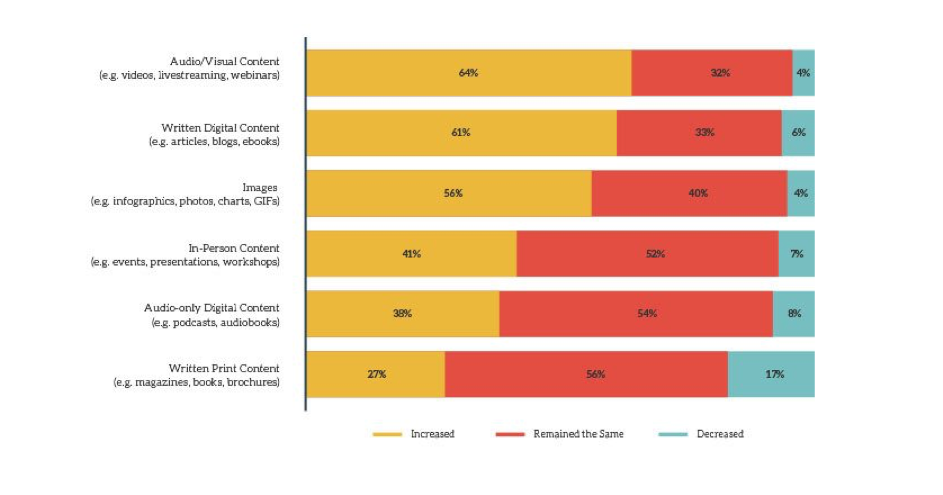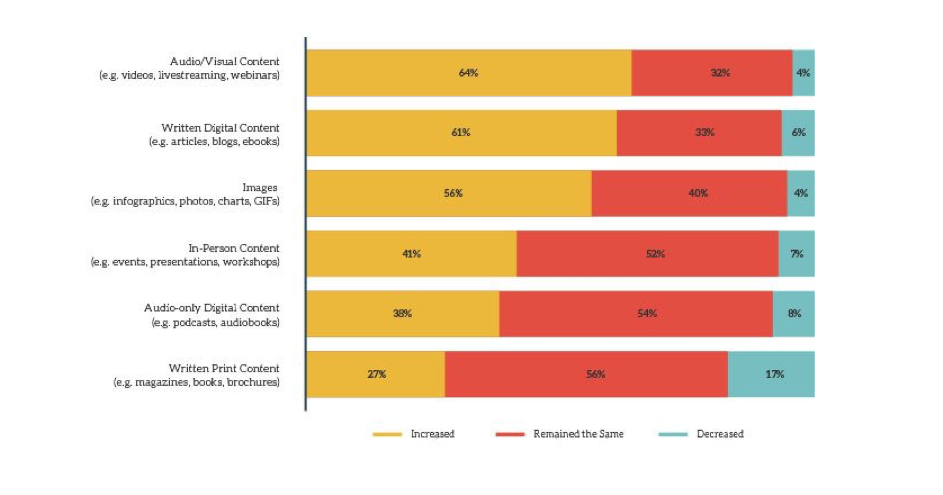 Additionally, you can evaluate inbound traffic on your website through tools such as LeadRebel to address the "warm" leads directly.
B2B Marketing 2022 Trend 3: Google PPC Focuses on Problem Solving 
PPC ads have become very expensive. Why?
Google Ads are becoming more and more user-friendly. Recently, this has led to almost every B2B company placing search ads somehow. 
This has pushed up costs.
Google Ads Search Advertising can be compared to an auction. You tell Google what you want to pay when someone clicks on one of your ads. Google then decides whether and where it wants to place them.
You can, however, not only bid on keywords: You can choose whether you want a broad or targeted match.
This allows smaller companies to take advantage of an attractive offer despite high prices.
For example:
Imagine you are bidding on the keyword "software". You may then need to pay ten or even 15 euros per click.
You have no chance of keeping up with a company operating on a PPC budget of several million euros for this type of keyword. What you can do instead: 
Focus on who the buyers are and what they want. Use appropriate expressions.
Suppose you sell CRM software. For 99 % of the companies, the click will cost about 10 Euro. However, a smart marketer will use the advertising euros, emphasizing how to solve the customer's specific problem in the ad.
Do you know what the "most expensive PPC keyword" in the world is?
Spoiler alarm: It's not "software"; it's "mesothelioma."
One study determined that the ten most expensive search queries all contained this term costing more than 200 USD per click.
Mesothelioma is a type of cancer caused by asbestos. Asbestos infestation can be combated in court, which is why it is very worthwhile for lawyers to bid on this keyword and possibly advocate for a mesothelioma patient. Many cases are known in which the lawyer could obtain more than 1 million damages. 
B2B Trend 2022 No. 4: Programmatic Advertising Is Becoming Increasingly Popular
Programmatic advertising is fully automated and individualized buying and selling of advertising space in real-time.
This concept is considered the future of digital advertising, with Google leading the way. The search engine giant aims to pocket 60 % of all digital advertising spending for programmatic advertising programs by the end of 2022. 
If Google makes that statement, marketers should jump on the bandwagon as quickly as possible and learn the skills.
Digital marketers who master this trend will be one step ahead of the competition in 2022 (and beyond). Anyone striving for this new skill set needs knowledge of the process and must be willing to change the way of placing digital ads today. 
In essence, programmatic advertising automates the bidding process. In contrast to current methods, this is done using precise analysis data. As the process is more efficient due to fewer errors, advertising costs are usually smaller. Considering the promised cost reduction, it is not surprising that the distribution of programmatic advertising is increasing rapidly.
The following infographic illustrates the percentage of all brands and agencies that buy programmatic advertising via various media channels.


Source: https://www.disruptordaily.com/10-stats-to-know-about-programmatic-advertising/
B2B Trend 2022 No. 5: Account-Based Marketing Turns the Marketing Funnel Upside Down
Account-based marketing is not a new concept for many B2B marketers. As early as 2013, 85 % of B2B marketers found that ABM outperformed other marketing investments in terms of ROI.
Business customers expect and appreciate personalization more than ever. 
ABM is the perfect complement to this strategy. In account-based marketing, sales and marketing resources only focus on specific target accounts. Each of these accounts is then addressed with its personalized campaign designed to reach the organization's key decision-maker(s).
In an account-based marketing campaign, all marketing messages are written and designed to meet the specific needs and motivations of the company. Thus, an account-based marketing campaign usually achieves a significantly higher success rate than comparable activities.
Companies that successfully implement account-based marketing not only generate more qualified leads but establish better customer relationships and improve reputation.
Owing to such statements, it is clear that account-based marketing works and is worth considering in 2022.
B2B Trend No. 6: Cross-Marketing Sales Promotion
An exciting development is taking place in marketing: The border between marketing and sales is becoming increasingly blurred – and marketers are confronted with a new role: They must support sales more actively.
The primary function of this new role is to keep track of the customer's perspective throughout the journey, from the first point of contact to the successful sale, knowing what is going on and when.
It will no longer be enough to hand over leads, qualified by marketing, and then hope for the best in sales. Marketing must understand precisely what the sales force needs at the front and when.
Do you realize why personalization is so important?
This requires new thinking from marketers: new concepts for lead generation, targeted, and personalized advertising, email campaigns before and after the purchase, etc.
B2B Trend 2022 No. 7: SEO and Search Algorithms 
True, if you want to keep up with all the changes that have been introduced in social search algorithms, you will be prepared for a "never-ending" egg dance.
When marketers were asked what they were most concerned about at work, they gave the following answer:
Changes to SEO / search algorithms (61 %),
Changes to social media algorithms (45 %)
Content marketing as a source of income (41 %).
For 2022, you should take even better care of SEO and search algorithms. There are excellent sources available. Video courses (e.g., on Udemy & Co.) are a great way to keep up.
An excellent article on this topic in English: please click here.
B2B Marketing 2022 Trend No. 8: Advanced Reporting and Data Visualization
Not only is technology evolving, but data and analysis functions are also keeping pace. Today, B2B marketers have access to unprecedented amounts of data – and Google Analytics is just the beginning. New tools and extension functions are continually coming onto the market that better meet a marketer's data needs.
However, how many of us make full use of this sea of data? For a successful marketing campaign, however, this is groundwork.
Analyzing the critical data helps you narrow down your target group and get to know it better. This, in turn, helps you get better leads and lower your marketing costs.
The proper analysis also helps you personalize marketing campaigns to build closer relationships with the companies you are targeting anyway.
Newer tools such as Google Data Studio and tools from smaller brands are increasingly coming onto the market. They are used to extract more and more customer data from different data pools.
Companies in the field of data analysis are continuously working on innovations that make digital data more accessible and understandable, thanks to visualization. This makes data processing easier for marketing professionals. 
Conclusion: B2B Marketing Trends 2022 Call for New Skills and Rethinking 
If there is one thing this article has shown, it is that digital marketing is still on the rise and remains a fascinating area in 2022. The presented eight B2B Marketing Trends all dive deeper into the digital world. 
This calls for the development of two key skills of a marketeer: rethinking and acquiring new skill sets.
We recommend that you select specific training courses and regularly take the time to read articles or consume relevant video content. Because if you don't: one of your competitors is undoubtedly ready to learn.