Who is visiting my website? Benefits identifying website visitors
Who is visiting my website? Many marketers and website owners ask themselves this question. Unfortunately, most B2B companies do not have insights about the companies visiting their website. A wasted opportunity, because the website is the company's lead magnet if set up correctly. With visitor tracking software, you can find out who is visiting your website, which companies they belong to, and — most importantly — whether a follow-up is worthwhile for your business goals.
Website visitor identification is beneficial for most B2B marketeers. After reading this article, you will know how it works and whether you can take advantage of it already today.
How website visitor identification works
The main component of any website visitor tracking software is an IP lookup database the provider maintains continuously.
Any device connected to the Internet has an IP address. To track them, companies like LeadRebel use the Reverse Domain Name System (rDNS). Based on the IP address, the tool finds out which companies have visited your website. In simple terms, DNS translates the visitor's IP address into helpful information, such as the company name, phone number, and email address of the organization that registered the IP.
Such information will give you a clue as to what the potential customer wants from you. Thanks to this technique, you get analyzable reports with meaningful data on website visitors' behavior, such as:
Keyword search information
Dwell time on the form pages or
Percentage of new page impressions. 
With this wealth of information, you can approach customers tailored to where they are in the customer journey, which, in turn, builds customer confidence and increases your sales opportunities.
It is important to note that all information provided by utilities such as LeadRebel is commercial information and therefore publicly available. 
Why identify website visitors and know who is visiting my website?
If the data is publicly available, why not use analytics platforms like Google Analytics and search for the data yourself? In fact, software providers have already done all the work for you, collecting up-to-date data and preparing it neatly, which is laborious and costly work if done manually. Moreover, not all publicly available information is always easy to find. So naturally, most B2B marketers want to avoid spending their time on this. 
Did you know that only 2.35% of all those people who visit your company website leave a trace? This means that without targeted tracking, you will miss out on 98 percent of your target group.
As soon as you implement visitor recognition in 3 steps, you can retrieve company names and contact information about valuable points of contact for potential customers. Tracking software gives you the data you need to engage with those prospects, and sales and marketing teams can quickly create accurate customer profiles.
This, in turn, arms you with the necessary insight to generate higher-quality leads and convert them into your customers.
What does this mean for your company?
The benefits at a glance 
By using lead-tracking software, you can learn: 
which companies visit your company page
whether known leads visit your pages multiple times
which keywords are relevant
Details about user behavior and visit history
What actions lead the visitor to your website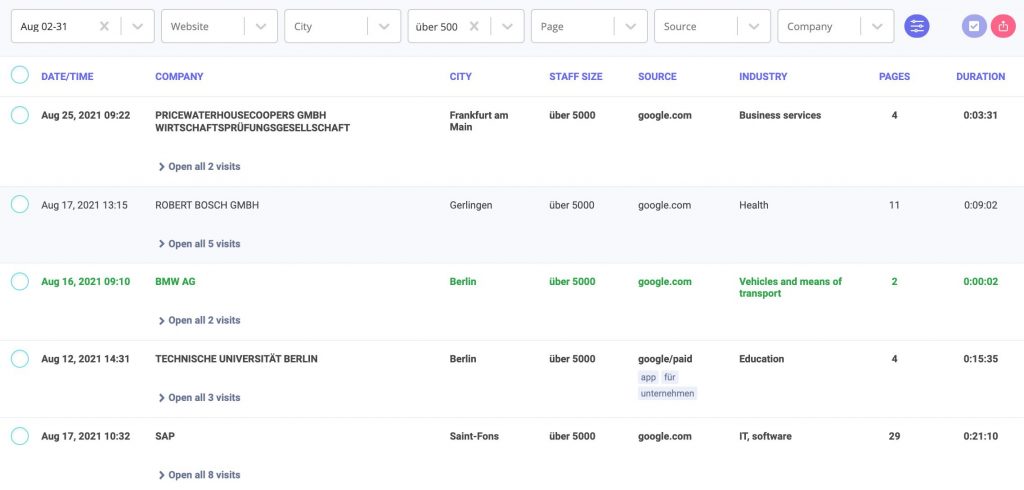 You will find out
whether the visitor is a customer, a known lead, a prospect, partner, or a competitor, and
which products and services the visitor is interested in.
In addition, you will reveal data that you can add to your CRM system for further processing.
All this information will be presented to you in a dashboard as a concise list or statistics. As a result, it becomes apparent what the lead's (or an existing customer's) needs are, providing you with increased cross-selling and upselling opportunities.
who is visiting my website? Other advantages
1. Time-saving 
Tracking tools like LeadRebel are accurate. They display information about your website visitors that is freely accessible yet well-hidden on analytics platforms, social media, or online elsewhere. Once the software is implemented, you can effortlessly find the right business contacts without digging for hours through multiple sources.  
2. Actionable
You have to react fast if you want to increase your sales opportunities. When a lead visits your website, they are interested in your products at that very moment. The more time passes before you approach the lead, the "colder" it becomes, as interest flattens out. Therefore, do respond in real-time and whenever the customer is ready to act. Addressing potential customers as soon as they visit the website makes a good impression and keeps your products and offers in the customer's mind. Both factors have a positive impact on sales opportunities.
3. Focus on those leads that already show interest – who is visiting my website?
Is it a competitor, vendor, or a prospect browsing your site right now? Unfortunately, not every website visitor is a qualified lead. With tracking software, you can filter out those relevant leads, and your sales team will be provided with preprocessed data. This dramatically reduces the need for aggressive sales tactics (such as cold calling) and reduces the team's time chasing leads. Instead, they can focus on prospects who contribute to the company's goals the most. 
4. Get to know your target group
With tracking software, you gain a better understanding of your target groups. You can remove the guesswork on which industries, company sizes, or regions are interested in your offerings (read more about tracking software features here). Through lead generation, you can divide your customers into different demographic groups and focus more sharply on the needs of each of them. Doing so allows you to generate more sales in the clusters you define.
5. Keep relevant data only
LeadRebels filters out ISPs and bots as well as spam traffic. You will receive a concise list of companies that are worth contacting.
6. Improve sales ratio and profit share
One of the essential tasks of lead generation is to boost sales of products or services, keeping costs low. Over 55% of B2B marketers spend more than half of their marketing budget on lead generation. When companies use a lead generation tool, the likelihood of making sales increases because they will only contact prospects because there is current interest on the buyer's side.
7. Contribute to a positive return on investment (ROI)
Lead generation is a marketing technique. Automated lead generation contributes to a better return on investment: You only spend energy on qualified leads based on your criteria. This way, you can use your man-hours in a more targeted manner and avoid idle time. In return, costs per lead (CPL) go down, which positively impacts ROI.
8. A win-win situation – who is visiting my website?
Lead tracking is beneficial for both sides: customers research an offer that interests them. Most likely, they won't visit just one company but several providers to gather detailed information. Once a visit takes place, the vendor can provide those customers with the relevant information they require. This is possible because the prospects' behavior has already revealed some relevant interests. For both parties, the chance of closing a deal increases.
9. Cost-efficient
Advertising measures are considered a prerequisite for corporate success. Thus, it matters to a company which marketing strategy the marketing team chooses. It must be cost-effective while producing good results. For most businesses, software-based lead generation meets this requirement because the investment costs are relatively low. Still, the influx of prospects will steadily increase.
Who is visiting my website? Benefits of identifying website visitors
When you choose B2B lead generation software, your marketing team can generate quality leads without increasing the advertising budget. LeadRebel helps you to identify website visitors. It converts anonymous website visitors into B2B leads for your marketing team to target them.
Instead of the usual 2–3% activation rate via inquiries, phone calls, or website signups, significantly more visitors will be recognized as leads and converted into customers. This has numerous business advantages.
Are you ready to harness this potential? If so, experience for yourself what the program features can do for you and test LeadRebel free of charge for 14 days.
Keywords: B2B lead generation, B2B leads, website visitor recognition, Who is visiting my website, Identify Website visitors
Translated by FabForward Consultancy