B2B Lead Generation on Facebook
Introduction: Facebook – A Gold Mine for B2B Leads
What is B2B Lead Generation on Facebook? Social media has fundamentally changed the way new customer contacts are generated. It can be a rich source for new leads. Even though Facebook is not considered a B2B environment, 32 million German-speaking visitors use the social network every month, 22 million even every day. Thus lead generation on Facebook can significantly boost your sales.
In B2B marketing campaigns, the potential of Facebook is often underestimated, as the platform is mostly utilized for B2C communication. It is evident, however, that many decision-makers from major companies use the platform daily and thus offer great potential. 
So why is Facebook often neglected in B2B campaigns? This is due to LinkedIn and Google, which have primarily established themselves as B2B platforms. Facebook, however, is by far the world's most-visited network, and business decision-makers spend 74 percent more time there than on any other platform. For this reason, Facebook holds an impressive potential for lead generation, which we want to unveil for your company step by step in this article.
"Due to its huge audience, Facebook is an excellent network for B2B lead generation."
"Hot" and "Cold" Traffic in B2B Lead Generation
Visitors of your website or Facebook page can be roughly divided into two categories. These two categories must be handled differently. 
Cold traffic includes potential customers who do not know your brand yet and are not familiar with your products and services. Such users may only visit your website because they became aware of your product through advertising. Motivating such visitors to make a purchase will require plenty of work.
Hot traffic represents a much smaller proportion. These visitors are already aware of your brand and acquainted with your products and services. They are much more likely to be persuaded to buy. To qualify for hot traffic, visitors must possess the following characteristics:
They know your brand.
They feel attracted to your brand and trust it. 
Consequently, your goal will be to "heat up" the cold traffic and generate more leads from it. There are two excellent methods for achieving this task:
Retargeting: Retargeting is the most effective tool to create hot traffic for your website. We discuss this topic in this post in detail.
LeadRebel: Our software enables you to reach 98% of visitors who have been to your site frequently but would never have contacted you. LeadRebel not only shows you which companies have visited your website, but also which products or services are fascinating for these companies and who is the right point of contact in the organization. 
Step by Step Lead Generation on Facebook
Every lead campaign has one primary goal: to generate as many potential customer inquiries as possible. Facebook offers you various ways of doing this, which we will present below. However, before you launch a new campaign, you should take some time to plan it.
Requirements for Successful Lead Generation on Facebook
To run Facebook campaigns, you must own a company page on Facebook. It should reflect your corporate identity and have as many followers as possible. 
Your company's Facebook page requires maintenance. All relevant data must be correct, and the contact information must always be up-to-date. Before you plan your first campaigns, you should have regularly offered relevant and exciting content. The more followers your Facebook page has got, the more successful your lead campaigns will be. There is no need to include a link to your website in every post, but you should nevertheless invite your visitors to your site regularly. 
Your website should be tailored to prospects and offer added value. The landing page should be well-structured. Place promotions or news of interest at the top to attract customers. Once on your website, the first few seconds matter keeping your customers from bouncing back.
Planning the Lead Generation Campaign
B2B lead generation on Facebook can be very efficient. Facebook empowers you to target your ads very effectively. When you promote an ad with Facebook, you can define your target audience and pick the type of campaign.
On Facebook, lead generation should take place in the following sequence:
Definition of the Target Group
Before you launch the campaign, consider your target group, it's demography and interests.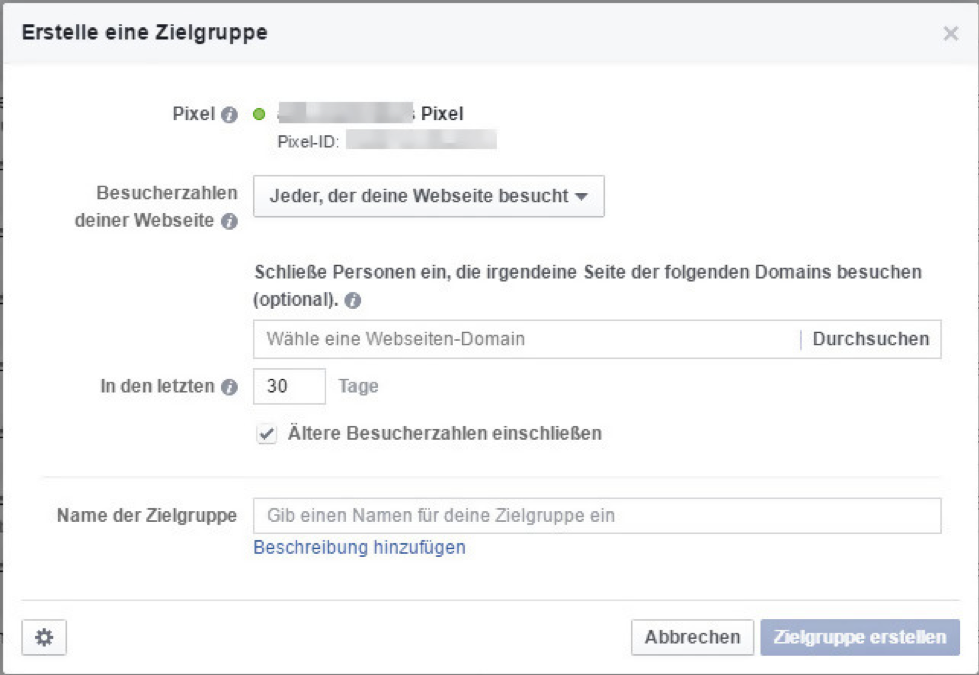 Gender
Age
Location. You can define the geographical locations of your target audience. Thereby, you have the option of setting multiple areas.
Detailed Targeting. Once you have identified the target group, you can address them precisely with their areas of interest. The selection allows you to define or exclude specific interests from the list.
After you have made all your choices, Facebook will show you the number of people matching your Facebook audience. You can adapt the advert to your budget and choose the intervals.
Advertising Campaign Structure
You decide how you want to address your target group:
Ways of Lead Generation
Decide whether the lead generation should be organic, with paid advertisements, or by retargeting measures.
Track Lead Generation Goals
It is vital to capture the outcomes of lead generation so that you can later evaluate successes and compare your optimization measures.
Organic Lead Generation on Facebook
Facebook provides several ways for you to generate leads for free.
Facebook Groups
More than one billion people use Facebook groups every month. For small and medium-sized enterprises, this is an excellent opportunity to address specific target groups. Register with as many groups as possible visited by your target audience. Ask group members for valuable information and help. Impress them with your expertise first before offering them more information on your website.
In Facebook groups, many visitors ask for help with specific problems that you or your team members can solve with your know-how. By offering solutions to problems, you will build confidence in your business and products. In these groups, you also have the chance to address a large target group and to announce special offers.
Always provide added value to your peers and prospects before asking for something in return. A wrong answer to a question would be "this is on our website"; it is always better to say: "You can solve the problem this way… more information can be found on our website".
Follow this outline for a perfect response:
"Many people have this problem. There are several ways to solve this. 

(1) Approach
(2) Approach
(3) Approach
We also have XX solutions on our website that might help you further."
Video Content for Lead Generation on Facebook
Several years ago, Facebook recognized how vital videos are. Nowadays, they have priority over all media like pictures and texts. Videos have become the most critical content type on Facebook that you can leverage for your lead generation offering marketing professionals a wealth of new opportunities.
Producing good quality videos doesn't have to be expensive. Today, they can be created using advanced smartphones and edited on computers using standard software. The results can often compete with professional productions. Even if the outcome is not perfect, it still produces better results than informative texts.
Facebook offers you several ways to do this:
Normal Videos
You can include videos in your news feed. These will be displayed on your main page or in groups. They can help you highlight the benefits of your products, services or specific features. Of great advantage, though, are videos that help your customers make better use of your products. Moreover, the good thing about it: promoting these videos is currently very cheap on Facebook!
Facebook Watch
Watch is Mark Zuckerberg's answer on YouTube. With Facebook Watch, you have a way to broadcast videos in a kind of TV channel. Interested parties can watch all videos one after another or select the desired video from your selection. Watch lets your company promote a wide range of videos that are transparently displayed to visitors. You can upload an entire series of your products and services providing more value to your customers. Also, you can prepare interviews with customers and employees who can share their insights or specific benefits.
Facebook Live
For some time now, Facebook has also been offering a live video option. Facebook Live allows newsworthy content to be published to visitors such as webinars or live product presentations and is, therefore, particularly well-suited for B2B. If you are planning to offer live videos, you need to pay special attention to the airing time to reach as many visitors as possible. It is advisable to plan the broadcasts well in advance and send invitations to your target audience.
Lead Generation on Facebook with Facebook Pixel
One of the most exciting options on Facebook, however, is retargeting. It is essentially a sophisticated method to address your target audience.
What is Retargeting?
Retargeting is simple. You can purposefully address people who have visited your website before. You can witness this approach every day on your very own Internet behavior. Once you have visited sites that use retargeting, you get ads from those sites displayed on social media.
Likewise, you can use retargeting to generate leads on Facebook. All you need to do is insert a code into your website, which Facebook calls Pixel. This code tells Facebook when visitors triggered actions at your site. You can control how Facebook will respond to those actions and to whom you want to display ads.
Retargeting B2B Customers with Facebook Pixel
Many websites today use Facebook's retargeting option. The ability to use Pixel for tracking visitors' actions is appealing to many industries. The information provided by Pixel may be used to return visitors to the website or to turn visitors into potential customers.
Other social networks like Google and Twitter also offer retargeting possibilities, but Facebook Pixel can be used in the most effective way for B2B lead generation.
How Does the Tracking Pixel Work?
The tracking pixel is a tiny HTML image 1 x 1 pixel in size. It is mostly displayed in the same color as the background so that it remains invisible to visitors. When a visitor hits the website, the visitor's data is transmitted to the tracking pixel's server. As a result, the website owner can retrieve many of the visitor's data and use it for advertising purposes. Since the browser can deactivate cookies, tracking pixels are a viable alternative.
Why is B2B Retargeting on Facebook so Effective?
One of the prominent reasons for using Pixel is its effectiveness in B2B lead generation. Pixel can significantly boost the performance of your advertising campaigns. Let us take an example to demonstrate its impact.
Imagine a customer is seeking a remedy for a problem. During his research, he finds your products or services and throws a short glance at your website. Owing to the amount of work involved and other external circumstances, he cannot, however, take a closer look at your offerings. Soon he forgets your website because he didn't have ample time to get to grips with the benefits of your products.
With Pixel, you can send information to the customer after a while, which will help him to remember your products. You may send them special offers, price scales, or specific information. Advertising can be placed at defined intervals, pending the customer's decision to purchase.
However, there are even more reasons to use retargeting for lead generation on Facebook:
On average, 98 percent of visitors leave your website before leaving their data and converting them into a customer.
Up to 75 percent of customers place goods in the shopping cart and leave the website without buying them.
The chance to convince customers of your products or services is disproportionately higher with retargeting.
The likelihood that visitors see your ads in social media after visiting your site is considerably higher.
All in all, Facebook Pixel is a very versatile tool to improve your B2B lead generation and to address user-defined target groups individually. You can run many small campaigns and target small groups to improve your chances of success.
Bottom Line
B2B lead generation on Facebook is one of the most powerful tools in your marketing and sales strategy. You can execute both paid and free campaigns and generate numerous B2B leads. You can redirect traffic to your website. With the help of LeadRebel, cold traffic will be "heated up", and you can address your visitors systematically.
Image source: https://www.pexels.com/photo/facebook-ads-text-2556703/