B2B Leads: Successful Lead Generation on LinkedIn
B2B Lead Generation on LinkedIn
Looking back at the developments in online marketing over the past few years, you will notice that customer acquisition has changed dramatically. Nowadays, we try to make contacts on social media. LinkedIn is no exception to this. And right here, B2B leads can be found with ease.
B2B companies need to win leads with a creative strategy if they want to be successful in this interconnected world. For most marketers, this means developing a strategy that encompasses multiple strategic levels – including social media marketing on various platforms. 
This article discusses ways to generate leads on LinkedIn and introduces each method.
LinkedIn Is One of the Best Platforms for Lead Generation
Internal surveys conducted by LinkedIn show that 93% of all B2B marketers believe that marketing within the platform is the most effective way of generating leads. If you need to launch an optimal B2B lead generation campaign on LinkedIn, you can also check the definitive guide from Gotoclient.
In every online guide, you can read how to win leads using LinkedIn. It always comes down to the same thing: Join. Be active. Collect leads.
There is nothing wrong with all this, in general, except if it were that easy, we wouldn't have to publish another blog post.
Therefore, your query as to whether you should invest time and money in a LinkedIn approach is justified.
Success with LinkedIn Leads: Why bother?
LinkedIn Statistics
According to their own information, the network has: 
500 Million members (13 million in the DACH region) 
61 Millions of high-ranking influencers and 
40 Millions of decision-makers who are using LinkedIn regularly. 
Among those users are creative marketing specialists as well as influential managers in exact those hierarchies their marketing actions aim at.
LinkedIn is, therefore, a place where you can reach decision-makers promoting a product or service (or generating leads).
24.5 million company pages were registered by 2 July 2018. 
This makes LinkedIn – in contrast to other, more informal social networks – a serious platform for lead generation. 
Turning Your LinkedIn Page into a B2B Lead Generation Page
So you want LinkedIn Leads? Then, your site needs to target for it.
The first strategy we want to bring closer to you is the transformation of your business site into a B2B lead generation page. What this means is that in the future you will be portraying precisely the opposite of what your company is currently showing. 
Let me guess. Your company page quotes the most important facts about your company. Please get rid of it because:
Unfortunately, nobody reads the information and facts about the company. This implies that before the prospects even looked into your services, your profile is out of the game. 
Instead, structure your company page in such a way that it leads to a conversion action. A conversion action is a click onto your website, either in the company description or in the updates.
Step 1: Use an image that attracts attention or interest.
The header image is the easiest way to stimulate the visitor's interest and actively encourage him to interact.
Place a message directly in your header. For instance:
"Get your guide to reach the influencer you need."
"Step by step to the perfect header on LinkedIn: design guide included"
The reader's next logical step is to get the promised material.
Remember: The picture must catch the reader's attention and prompt him to take action.
Step 2: Create a concise and convincing company description.
Even if the first step proves successful, many companies fail at this point.
Your company page must not reflect any dry facts. How strongly you grew and how many locations you operate right now are not the stuff a lead generation page is made of.
Talk directly to your target group. Invite them to communicate with you.
The most important part of your company description is the first two lines.
That is all visitors can see. To get more information, they must actively click on "See more".
That means, you got only two lines to draw the visitor's attention.
All the beautiful paperwork you have done for your company website will be waste of time otherwise.
Step 3: Align the Recent Updates section to conversions.
If potentials customers don't click their way to your website because of your information description, convince them to remain with your updates by publishing updates regularly. As long as you do that your site will show an active and appealing feed. The best path into your customers' minds are updates that deal directly with their interests and needs:
Relevant blog updates
Links to infographics
Industry information
Remember: "Clicks" is all you want. Always keep this in mind when publishing updates. Key to success is what you write and how you convey the message.
Using Groups on LinkedIn Correctly 
Well done! You have laid the foundation for your lead success with your company page. The next step for successful lead generation on LinkedIn is to boost your activity level.
Before you roll your eyes: LinkedIn groups provide a perfect environment for testing updates and content your target audience respond positively to.
Do the following:
 Search for suitable groups
 Join
 Keep up a certain amount of activity.
This is for lead maintenance. Yet, we recommend that you set yourself a time budget for this marketing activity.
How to find groups? By performing a group search with relevant keywords.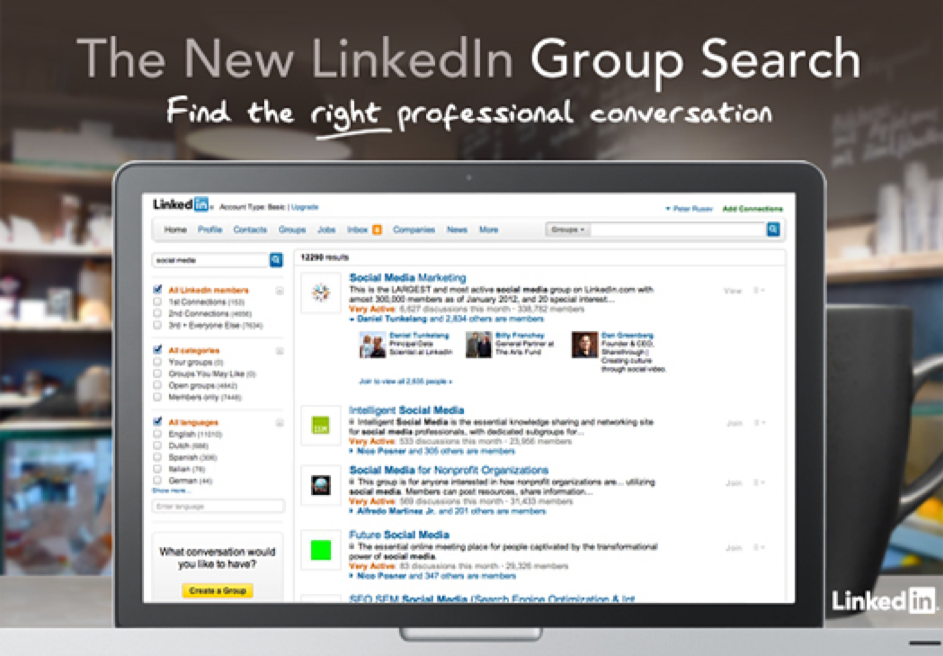 Source: blog.linkedin.com 
Group searches do not have the same advanced features like people or company searches, but you can still narrow down your search by keyword, category and language.
Search for groups that have the following characteristics:
Highly relevant. The group has to meet as closely as possible what you expect from a target group.
The group has to be very active. LinkedIn arranges groups by activity level. Thus, pay attention to the group's activity in the search results and select those that are "very active".
Should You Start Your Own B2B Lead Generation Group on LinkedIn?
Once you join groups and interact with members, you can judge whether there is a demand for a new group with a specific need. 
Your advantage: As a moderator, you can establish yourself as an expert and gain recognition. By acting as a facilitator, not a salesperson, you have created a meeting place for your audience where you can engage and interact effectively.
This is a pretty neat and free strategy to get in touch with LinkedIn leads directly. 
Forming a group yourself has the big advantage that you can set the direction. The drawback is that you have to spend time making the group come alive. 
A good compromise is to focus your search or to create a group that is not directly concerned with your topic. If you join a group where everyone does the same thing, competition is high. 
Pro tip: Pick or create groups that indirectly deal with your subject area. As an example, join a group of web developers instead of a group of lead generation experts. Sooner or later, a web developer may need lead generation strategies. If you only surround yourself with other experts, you will shrink your social pool.
Organic or Not: Which Content Strategy Should Be Persued?
As you know, content is THE vehicle to inspire customers and spark their interest. LinkedIn offers marketers two ways to reach and interact with their target audiences: 
Free, organic reach
Paid advertising
Using paid LinkedIn products makes it much easier to reach the right people. It is not always easy to see through all the product settings, and you should be prepared that it will take you some testing before you find out what will bring you leads.
Regrettably, organic measures are no longer sufficient to deliver content to people. Instead, combine the two strategies.
We suggest you find out what the best mix of both types of advertising may be for your business. A mixed strategy is, in our opinion, the key to unlocking the full potential of your company presence on LinkedIn.
Rule 1: The bigger your organic reach, the more profitable the paid advertising will be.
This means that you should test your free content before promoting to ensure that you only invest in worthwhile material.
Rule 2: Keep focusing on organic reach but pay for the distribution of popular content. This strategy will earn you more engagement.
Organic Reach plus Paid Ads for B2B Lead Generation on LinkedIn
Once you start building your organic reach, you can invest in a range of paid advertising opportunities concurrently. With it, you will reach the right people on LinkedIn and be able to involve them on a larger scale.
You have the following options:
They distribute content in the LinkedIn feed with content sponsored by LinkedIn.
Reach potential customers with LinkedIn Messaging in LinkedIn Sponsored InMail
Reach customers early in the buying process with display ads on the LinkedIn.com desktop site. The tactic includes program-controlled purchases.
Place dynamic ads as well as text ads.
A Detailed Look at Paid Advertising on LinkedIn
In online marketing, the right content at the right time plays an indispensable role. When it comes to accompanying prospects from lead generation to closing, you should focus on guiding them from one stage to the next.
The following LinkedIn products are a good foundation of a marketing strategy that delivers valid leads.
Sponsored content
Put your content in front of your target group directly in the LinkedIn feed. That is, you can attract readers' attention with the right content.
Sponsored content is relevant because it is the most versatile advertising product currently available on LinkedIn.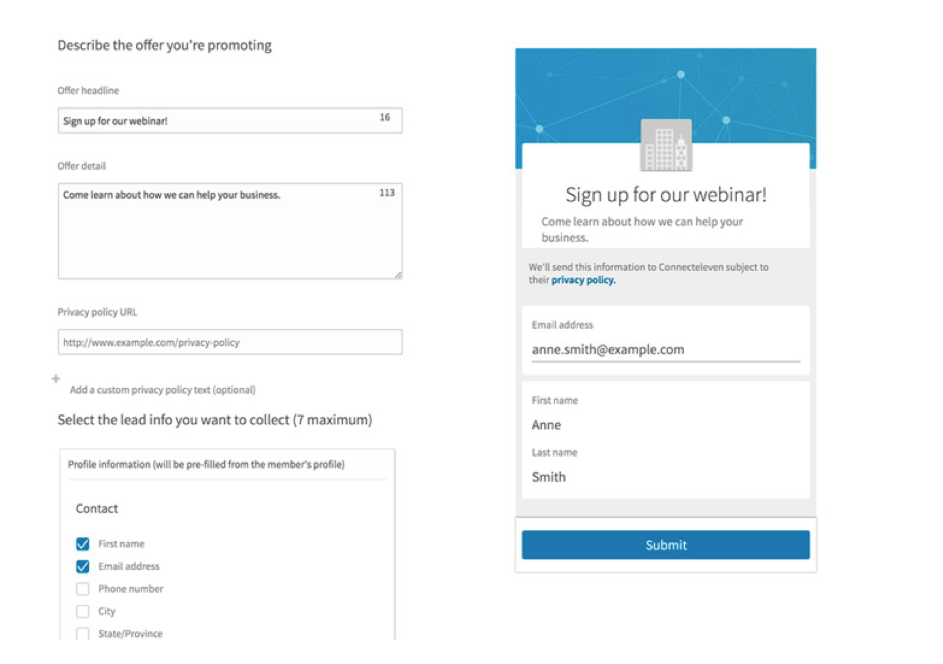 You can refine the settings for brand goals and awareness goals in the outer part of your sales funnel or direct lead goals in the inner part of your funnel. Which goal you pursue depends on your strategy.
Tip: When using LinkedIn advertising products, be sure to familiarize yourself with the settings. Both the LinkedIn blog and all the explanation pages are perfect resources available to you. It takes some time at first to get into it. Schedule fixed sessions to get yourself accustomed to LinkedIn strategies. It will pay off.
Video ads
This content type will help you captivate a professional audience at every stage of the buyer journey. Create short videos with a crisp description. If it's challenging for you creating such content, turn to professionals – for at least a while – until you get the hang of it.
This is a premium strategy that you can leverage for well-performing content. It's the perfect tool to tell stories, to channel qualified traffic to your website and push high-quality leads on the right track with a targeted call-to-action.
Sponsored InMail
When it comes to sending personalized messages to potential customers in the most direct way, this product is the best choice. LinkedIn users use Sponsored InMail for specific data collection.
LinkedIn provides proof on its website that this measure produces cost-effective, high-quality leads and more deals.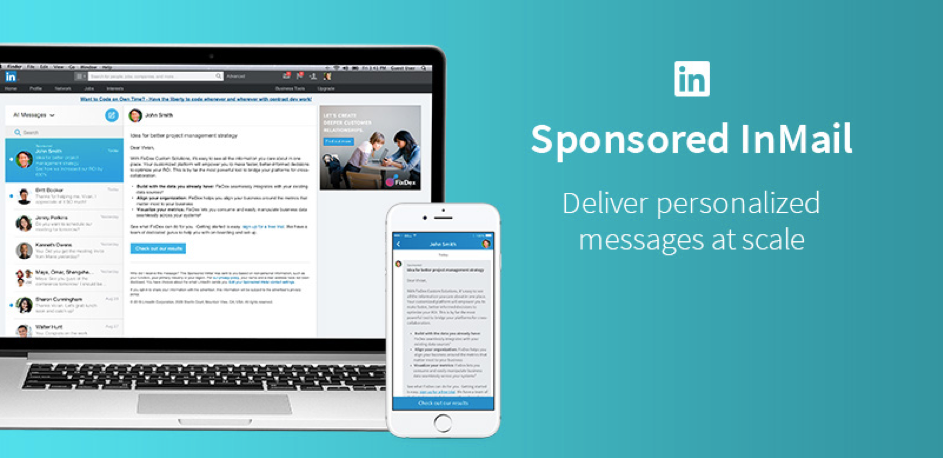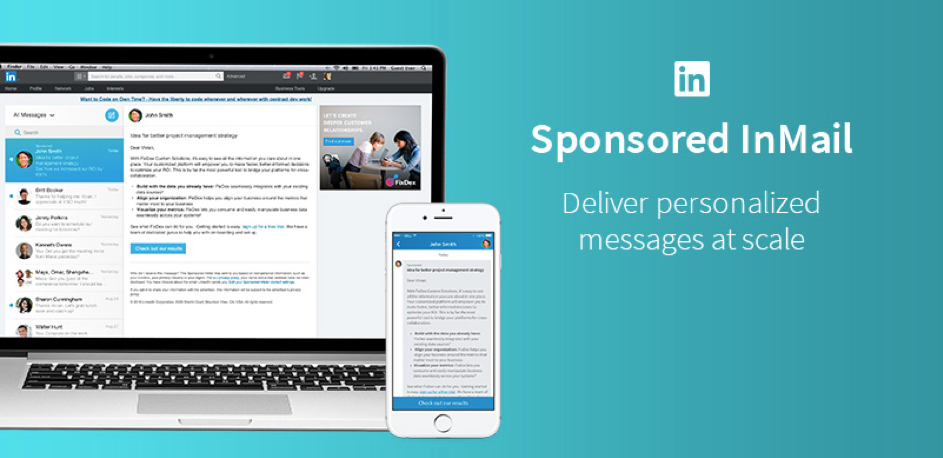 Source: business.linkedIn.com
Also interesting: What does the lead generation cost? This article tells you.
Display ads
This is a powerful way to ensure that you get on the radar of potential customers early and increase brand awareness.
Thanks to the LinkedIn purchase option, you can reach the right customers in a buying environment with highly visible display ads and accurate targeting via your preferred Demand Side Platform (DSP) or Agency Trading Desk (ATD).
Display ads are a very accurate and effective medium that allows you to provide your target audience with the most relevant information that is now available to you.
This dynamically generated ad format uses information from LinkedIn member profiles. It is convenient if you intend to redirect visitors to your company website.
The LinkedIn Lead Gen Forms
LinkedIn employs some of the most brilliant advertising minds of our time. So in turn, the products that LinkedIn offer us meet our needs quite accurately.
A product that you can use are forms provided by LinkedIn.
They are available for: LinkedIn Sponsored Content and Sponsored InMail.
It works like this:
 Add a call to action (CTA) to your paid content or message in InMail.
 You immediately collect complete information.
 Automatically link leads to targeted offers and content.
 Access your leads with Campaign Manager or your favorite third-party tools.
Measure the success of your lead generation campaigns.
Source: LinkedIn
Do you recognize how targeted this measure is? 
Top Tips for Customer Acquisition on LinkedIn Using Lead Gen Forms
We have collected some top tips below, which we found directly in the LinkedIn resources. LinkedIn uses these strategies itself to generate leads.
Top tips:
   Choose the right target group. Check which people responded well to which content. The offer, used to attract the prospective customers, must be aligned with the target group. 
   Create forms. Only select three to four fields for your lead gen form. LinkedIn and other well-known program providers (such as Hubspot) found out that using less than seven fields increases the conversion rate. 
Tip: Check whether three or five fields give you better conversion rates.
   If you have a high opening rate for forms, but a low lead volume, you should reduce the number of fields in your template. At the same time, check whether the wording of your form suits your target group. 
   Interact with your leads promptly if you have said to do so it in the initial message. Write thank-you messages mentioning when you will contact the lead again.
Insider tip: Combine LinkedIn products
If you want to go full throttle when generating leads on LinkedIn, then combine products, but only after you have executed all the tips from this post.
An example of this is the combination of sponsored content and sponsored InMails. According to LinkedIn, this increases opening and click rates. 
This is a strategy that LinkedIn applies itself: LinkedIn compared the performance of two campaigns. For one campaign they only use "Sponsored Content", while for the other they combined "Sponsored Content" with "Sponsored InMail". 
The result: 
LinkedIn recorded a 25% increase in Sponsored InMail opening rates. 
The click rates increased by 95%. 
This is because you can connect to your leads through multiple, very bespoke channels. 
If LinkedIn uses these channels, you should do so, too. 
Conclusion and Final Thoughts 
LinkedIn offers many opportunities for lead generation and is the ideal medium for B2B companies. But: Without a well-directed strategy, LinkedIn is just another time-waster which does not generate leads. We do, therefore, recommend that you develop a comprehensive approach – the basics of which can be found in this article.
If you opted for a social media strategy on this network, you should combine organic reach and paid options. The paid LinkedIn options scale well and offer accurate settings. To maximize your advertising efforts further, you should explore available resources such as the LinkedIn blog and downloadable white papers
Image Source: https://pxhere.com/en/photo/1445953