Lead Generation on LinkedIn: The Short Guide for 2022
LinkedIn offers a great opportunity to increase brand awareness and recognition, especially for B2B businesses. There are now around 58 million companies that have built their brand communities on LinkedIn, which makes it the right place for finding and generating B2B leads.
In this guide, you'll find best practices and tips for effective lead generation on LinkedIn in 2022.
What is Lead Generation
Lead generation is one of the most important aspects of the sales funnel that consists of converting your target audiences into potential clients. The sales cycles and closing deals take a lot of time and effort for B2B businesses. 
On LinkedIn, you're connecting with professional audiences at scale. This helps to drive meaningful engagements in result-oriented environments. To generate high-quality leads B2B businesses must focus on the content that's being shared across different social channels.
The main benefits of using lead generation
With a powerful strategy and clear objectives, lead generation can offer your business great growth opportunities and benefits. Here are the key advantages of lead generation on LinkedIn:
Increased brand awareness and visibility
The more people know about our brand, the better your reputation, revenue potential, and overall brand value will be. It's essential to raise exposure and awareness for your brand. Lead generation helps to educate and inform individuals in your target market about your product and its benefits.
Better resource allocation
When dealing with prospects who are already interested in your products, you can use minimum resources on other aspects of the sales funnel. Lead generation doesn't require huge investments compared to paid advertising and managing marketing campaigns.
More business opportunities
When you engage in lead-generating activities, you will come into contact with people working in various businesses and industries. Even if you are unable to make a deal with them, you can benefit from their referrals. Creating networks is very profitable in the long run and opens up new prospects for you.
More sales and revenue
The capacity of your brand to reach target prospects can be maximized when lead generation is done properly. To do this, you must use the proper messaging, offers, and content to get their attention.
The potential for revenue growth is excellent, particularly when you focus on the interests and pain points that matter to your audience. Utilizing lead-generating tools increases a company's likelihood of turning leads into paying customers, increasing revenue and profit margins.
Better lead quality
You should create content with a specific audience in mind for effective lead generation. From the website and email copy to the social media and blog articles, everything you post on LinkedIn and other social media for your brand should be tailored to these particular audiences. This will help you to raise the quality of your leads, which then results in a boost in sales and conversions.
Why LinkedIn is good as a B2B Lead Generation Platform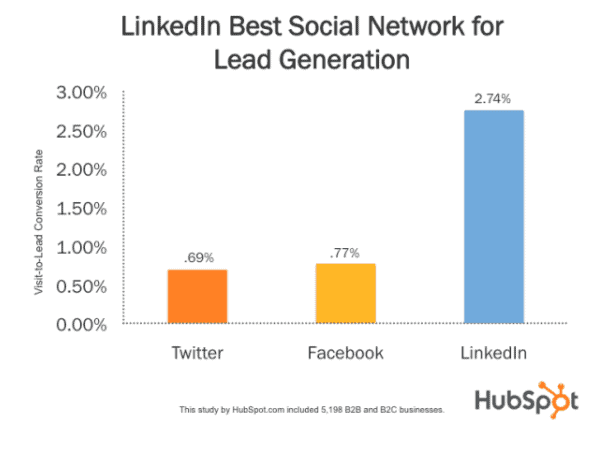 A study conducted by HubSpot in 2021
LinkedIn is the right platform for attracting good prospects and building connections with them. Here are the benefits of using LinkedIn for generating leads:
A dedicated professional networking platform. LinkedIn is a platform where you connect with professionals across different industries. When searching for professionals on LinkedIn, you can filter the results based on the job title, capabilities, location, etc. This helps in performing a more targeted search based on your buyer persona.
A large number of active users. LinkedIn boasts of having millions of members which is quite a number! Most of them are active users who log in every day and engage with others.
Cost-effective. While it is possible to generate leads on LinkedIn for free you can also choose the paid options. Running ads on LinkedIn is quite cost-effective compared to other social media platforms, as you get a better conversion rate, increasing the ROI.
Well-suited for B2B lead generation. The majority of the businesses are on LinkedIn. Its strong professional targeting functionality and analytics help to connect your brand with the right audiences.
5 key reasons why cold writing on LinkedIn is not effective
The main reasons to avoid cold writing on LinkedIn in 2022 include the following:
Short attention span. We live in the world of short-form content, that's why we need to follow trends and leverage the benefits of creating this type of content. The general audience got used to quick 15-second videos or a constant scrolling of short posts on Instagram or Facebook feeds. It's really hard to stand out, but still possible.
Makes it hard to reach the needed goals. Cold writing may not be as effective as you would want it to be. Without a clear CTA and relevance to your target audience, the content won't bring you any results.
Messages easily get lost among others. There is so much content being shared every minute on LinkedIn, so if yours is generic and doesn't offer any value to readers, they won't pay much attention to it.
Cold writing is usually perceived as spam. Cold writing is easy to identify and usually ineffective if not used with the right strategies and tools. With this type of content, you not only lose the trust of your audience but also lose interactions and engagement, which are important for further growth on the platform.
Best practical tips for lead generation on LinkedIn
Here are some tips to help you leverage LinkedIn's unique functionality for effective lead generation for B2B.
Take the most out of Conversation Ads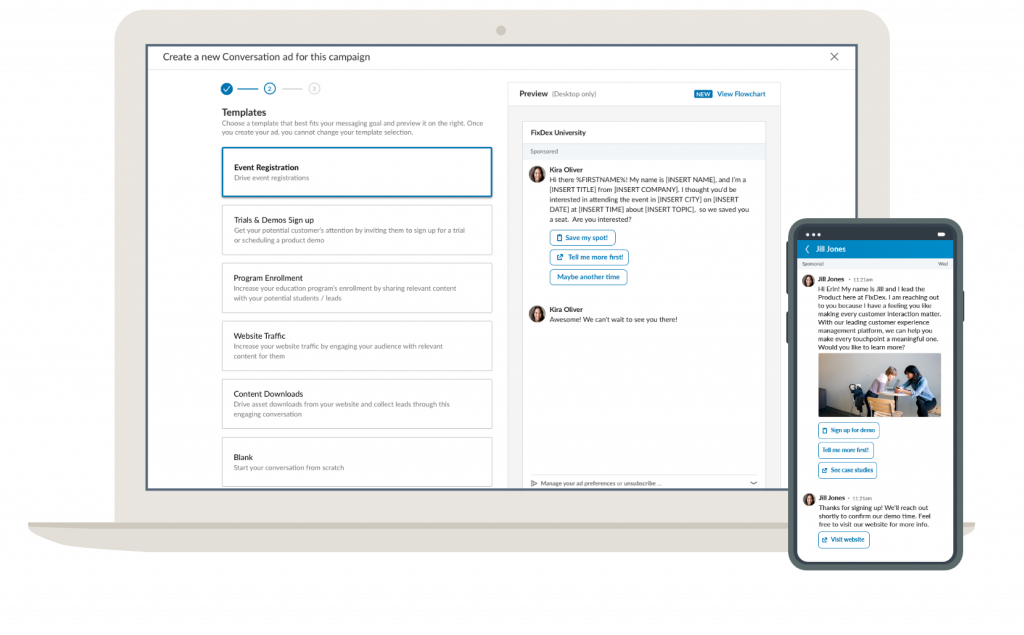 Creating Conversation Ads in LinkedIn Campaign Manager
You may communicate directly with professionals on LinkedIn with Conversation Ads. These messages are good for reaching out to potential customers since they incorporate personalized content and CTA buttons. To achieve the best results, Conversation Ads should be created with less formal and interesting content.
Use LinkedIn's matched audiences
The matched audiences feature on LinkedIn offers targeting choices that combine professional and business data. Retargeting, contact targeting, account targeting, and lookalike targeting are all examples of matched audiences. You can target an email contact list that you submit by using content targeting. Running account-based marketing campaigns is made possible by account targeting.
Did you know, that you can export your leads from LeadRebel to LinkedIn audiences? This enables you to generate an audience from the companies, who have visited your website!
Utilize LinkedIn to its full potential with Sales Navigator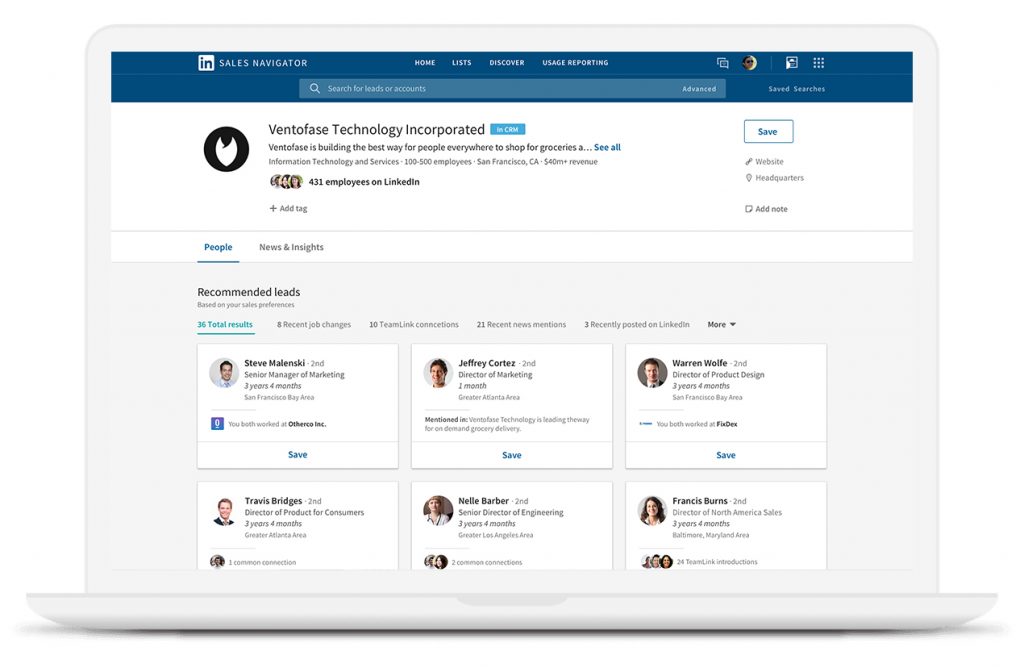 Sales Navigator on LinkedIn
The goal of LinkedIn's Sales Navigator is to make it easier for advertisers to track and interact with their LinkedIn leads. It can help you locate decision-makers, learn more about your existing leads, and even propose new leads to clients.
With the help of the PointDrive tool in Sales Navigator, you have access to a wide range of powerful options for monitoring lead engagement and distributing personalized multimedia material.
If you are looking for similar websites, offering contact databases, feel free to check out this article: https://blog.leadrebel.io/b2b-leads-databases/
Post consistently to keep your audience updated
LinkedIn is where professionals find the most recent insights and updates on their industry. By integrating polls, videos, longer written articles, and shorter daily posts on various topics relevant to your target audience's interests, you can add variety to your content on LinkedIn.
If you post frequently, you'll establish yourself as a regular on their page, and familiarity facilitates starting new conversations. To ensure that you're posting what people want to read, follow your page analytics to figure out what resonates with them the most and focus on creating similar content.
Join and engage with other users in LinkedIn Groups
List of Groups in a LinkedIn Profile
You should join LinkedIn Groups to interact with other professionals and discuss topics related to your field. Joining groups enables you to network with potential clients and demonstrate your expertise by responding to their inquiries and sharing pertinent resources.
You can share your updates and articles to promote discussions on relevant subjects. Your potential clients can notice what you say and start to perceive you as a source of insightful information.
But don't pitch your products immediately after joining a group. Instead, focus on connecting with the prospects and building relationships. And after examining prevalent industry pain points and how leads want these issues resolved, offer hyper-targeted value propositions.
Lead Generation on LinkedIn: Conclusion
LinkedIn users are focused on improving their professional and commercial objectives. Because lead generation and other marketing strategies are so simple to apply on LinkedIn, it has become the preferred platform for B2B marketers. Businesses should make lead creation through LinkedIn a priority to increase revenues and be open to more opportunities.
To find out more about lead generation on LinkedIn check out LinkedIn Marketing Solutions Guide with key insights for B2B marketers.