How does it work?  B2B Lead Generation on Instagram
B2B Lead Generation on Instagram
In its childhood days, Instagram, like many other social networks, was there to have fun. However, the turning point came in 2015, when Instagram Ads appeared on the scene and attracted the undivided attention of the business community. 
In the B2C sector, countless sellers successfully use their channels for marketing purposes and lead generation on Instagram. What are the chances for B2B?
We will answer this question and inspire you to try out some strategies for your own B2B business.
Why B2B Leads on Instagram? 
When Instagram introduced Ads in 2015, the platform suddenly evolved into a place for dynamic relationships between brands and potential customers. 
Promotions and lead generation took center stage for the B2B sector. 
B2Bs face different challenges than B2Cs do. B2Bs frequently offer specific products that are tailored to niche markets and minor target groups. Any emotions? Nope.
Reasons why Instagram is suitable for B2B lead generation:
Instagram offers companies an opportunity to communicate with potential customerson an emotional level. 
Instagram provides the infrastructure for good marketing: photos, videos, slideshows, Instagram LIVE, stories and more. 
Over time, Millenials are becoming decision-makers, and they love Instagram. This study by Millward Brown Digital and Google says 89% of B2B decision-makers research online and choose products. 
Hashtags. Today, it is no longer Twitter that lives on Hashtags, but Instagram. Used correctly, they make sure that users find companies. 
"Swipe Up". Instagram has added a feature to its stories allowing viewers to swipe up to a link defined by you. Read more about it below.  
The engagement on Instagram is very high. 
Success: Instagram Marketing for B2B Companies Pays Off
There is a reason why large B2B companies are on the spot on Instagram.   
With their visual language, companies build and convey their brand character via Instagram. 
Siemens has shown that Instagram advertising can be successful in the B2B sector. With only 565 contributions, the German technology group has 142,000 subscribers today.  
When we first checked in 2018, it had 246 posts and 43,700 subscribers. 
Just one week ago, Siemens succeeded with this video getting over 11,053 views: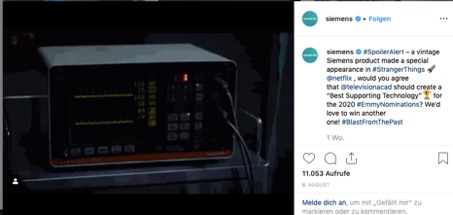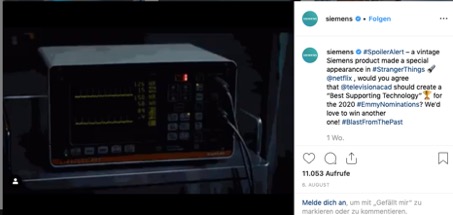 Pay particular attention to the description Siemens is using. They use a few specific hashtags, "@" and emojis. 
In general, Siemens relies on professional images rather than smartphone snapshots, as IBM does: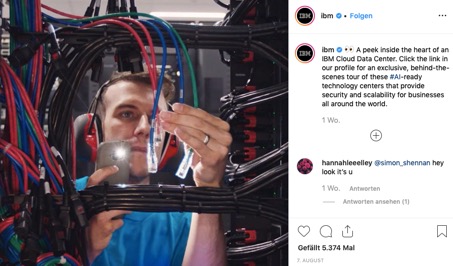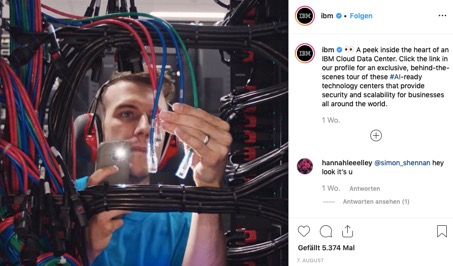 You like it, but you don't know where to start? 
Try out different things and see what content creates interaction best. In the first place, the most important thing is to get followers. 
At a later stage, you will have ample time to separate the wheat from the chaff. Your first aim is traffic. In the end, it doesn't help to laboriously generate content that no one is looking at.
Step-by-Step: How B2B Companies Generate Leads on Instagram 
In the B2B space, the following areas have proven successful on Instagram:
User-generated content
Insights into the corporate culture
Customer experiences 
"Behind the scenes" content 
Instagram is a platform that lives on influencers. It is, therefore, a good idea as well as an exciting business opportunity to work with such influencers to increase brand awareness.  
Post Daily 
Instagram is living in a world of images and videos. If you want to stick in the minds of potential decision-makers, you need to post different things several times a day. 
You should publish a regular Instagram post at least once a day. For example, professional-looking, high-quality images that still appear as if they were shot randomly. 
The content of these posts should be specific, relevant and contain up to 10 related hashtags. You can also embed emojis – have a closer look at the Siemens description. 
Add hashtags to your caption or in the first comment.
Boost Image Production
Are you free taking pretty pictures all the time? Probably not. 
Therefore, schedule some time for taking high-quality photos. A decent smartphone is suitable, as IBM has demonstrated. Allow yourself two hours once a week – during a time of day when you have plenty of daylight at your disposal.
Plan Your Posts
Fortunately, you can now use tools to create your posts in advance. Buffer, Hootsuite and others are available for this purpose. There you can manage the posts and keep them up to date. They will be published without your intervention. It wasn't always like that. 
With this pre-planning approach, you always have posts in the queue, but can still react spontaneously whenever something newsworthy happens. 
Create a posting schedule containing four parts.
As a B2B entrepreneur aiming for lead generation on Instagram, you should consider all four parts. If you do so, you are using Instagram as your lead generation tool. 
Part 1: Lead Generation with Instagram Stories
Publish between 5 and 15 Instagram stories every day. You cannot automate them, but you should schedule them.
According to this blog post, Instagram Stories are the most effective strategy for more B2B leads. Flight Media won 58% more leads with the step-by-step instructions.
You don't have to post stories at the very same time each day. Whenever you update your story, you automatically reach the top of your followers' feeds.
Before you start video recording, you should create a short script (at least mentally) for most of your stories. Naturally, "spontaneous shooting times" are also part of the program, but a solid content strategy should include spontaneous times alongside the use of video recording apps.
Part 2: Instagram Follower – Swipe Ups. 
If you do not yet have 10,000 followers, you should aim for this number. Why? 
The reason is Swipe Ups, a recent feature on Instagram. 
By using Swipe-Up-Stories, you can easily add clickable links to your stories. The viewers of your story only have to swipe up and get exactly where you want them to be. 
This is a very effective call-to-action. You can grow you Instagram with the help of this trusted service.
Part 3: B2B Lead Generation on Instagram with Instagram Live
Instagram Live offers the biggest scope of engagement. That's why this feature is so exciting. However, you should be very clear about what you want to achieve with your sessions.
You can adapt the following content plan to your individual needs: 
Have all tools (whiteboard, notes, screen sharing, etc.) ready.
Be aware that trolls can make life difficult for you and consider appropriate responses to them.
If you go live, you should mention your topic in a comment as soon as possible. In this way, your viewers know what it is all about – even if they arrive later. 
Think about an opening question to get people involved and engaged in the first few minutes.
Before you end the broadcast: do mention that you will now answer questions from the audience.
Announce when you will go live again and what the topic of this live stream will be. Next comes the call-to-action. 
Say goodbye – and that's it. 
If you intend to collect leads, you are advised to go live once a week. 
Part 4. Engagement
Once you implement the first three parts, you will reap more messages and comments. That's good. Now you need to respond to every single action, every follower, every question and every comment. 
Build connections every day.
Why? Engagement is Instagram's currency. Hence, this fourth part certainly cannot be neglected. 
Successful Instagram Lead Generation: Review and Measure Your Campaigns
Latest by now, it has become clear that Instagram marketing means a lot of effort. To make it worthwhile, you need to know your ROI. This will ensure that you are making the right investment and getting the most out of Instagram.
Based on the ROI, you can determine whether it's worth using Instagram to generate leads, or whether it's better to use another approach. 
There are several ways you can measure your Instagram success: 
Click rate on the target page
The conversion rate on the target page
Etc.
In addition to these metrics, you can also track clicks on the link in your biography. Most people do this with bit.ly. 
For the actual tracking, you should use Google Analytics.
This simple campaign URL builder adds the code that Google Analytics uses to track the campaign source (in this case, Instagram). 
Fill in the fields and generate a campaign URL that Google Analytics can analyze. 
The result is a bit.ly link that is correctly forwarded to Google Analytics. In this way, you combine the power of Google Analytics with a convenient short link, making life easier for you and your followers.
Conclusion: Lead Generation on Instagram: It Must Pay Off 
Products from B2B companies are becoming more and more specialized and technical – one of the big challenges of our time. Visual communication is essential to address customers on an emotional level.
Instagram is perfect for this. Decision-makers of B2B companies also obey the rules of marketing psychology.
If you want to implement an Instagram marketing strategy, you must clearly define which goals you want to achieve and whether the cost-benefit analysis is worthwhile.
Key-Findings: 
Post at least once a day
5-15 Stories per day
Instagram Live: at least once a week  
Communicate with users and respond to each action
Then, Instagram lead generation will be successful.
Featured image source: https://pxhere.com/en/photo/1290636